NFL 2011 National Football Conference: North Division Preview
Today we head to the old black and blue "Norris Division" as we feature an NFL 2011 National Football Conference: North Division Preview. Fortunes are changing for some of the teams in the NFC North! The Pack will back and Detroit is on the rise for the first time in a decade!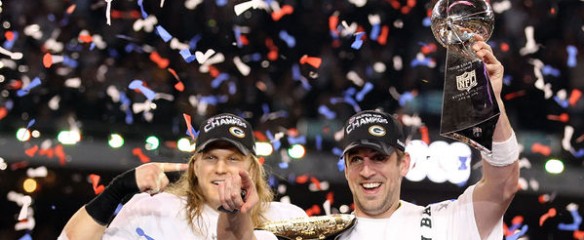 NFL 2011 National Football Conference North Division: We see big changes in the NFL North – a year after the Green Bay Packers won Super Bowl XLV. A resurgence is on the horizon in the Motor City while Minnesota and Chicago will battle for the NFC North cellar.
NFC North Division: Teams On The Rise & Decline
Green Bay will open their title defense, from the cozy comfort of historic Lambeau Field, against the New Orleans Saints in a stiff litmus test for both clubs. The Packers return with their roster virtually unchanged from their SB victory and they are getting a healthy TE Jermich "Flying" Finley back. The Packers have as good a chance at a Super Bowl repeat as any team in recent memory.
After a stellar late season run, along with the acquisition of a few key players in the offseason, Detroit is poised for their best season since they went  9-7 during the 2000 NFL season. If the Lions can get a little healthier, and then stay healthy, we see the Roar being Restored in Motown!
In a division where the Packers could finish 12-4, and everyone else hovering around the .500 mark, it's difficult to call the bottom three here. If QB Donovan McNabb can return to Pro Bowl form, the Vikings along with the best player in the NFL – RB Adrian Peterson, could run past the Lions for second place in the NFC North.
Chicago had one of the "flukiest" seasons in NFL history last season. It started with their gift win from the zebras in Week One and continued throughout the year. With RB Matt Forte and, to a lesser degree, QB Jay Cutler in the fold, it is kinda tough to put the Bears in the NFC South Division basement, but we just don't see it any other way.
NFL 2011 – NFC North Predicted Order Of Finish
Green Bay Packers
Detroit Lions
Minnesota Vikings
Chicago Bears
>>> Bet On The 2011 NFC North Champions At BetDSI <<<