NFL 2011 National Football Conference: East Division Preview
Today we begin a four part series focused on the contenders and pretenders in the NFL 2011 National Football Conference with a look at the East Division. The Philadelphia Eagles have been crowned as the preseason NFC East favorites but we're not ready to buy into that just yet!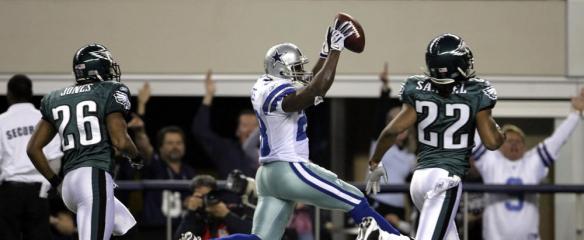 NFL 2011 National Football Conference – East Division Preview: One could argue that no division in the NFL has more bitter rivalries than the NFC East. The Dallas Cowboys, New York Giants, Washington Redskins, and Philadelphia Eagles, have been battling against each other for over three decades now.
NFC East Division: Are They Super Bowl Bound?
Over the past decade, ten different teams have represented the NFC in the Super Bowl. The Philadelphia Eagles (2004-05) and the New York Giants (2007-08) are the last two NFC East teams to play on Super Sunday.
Dallas was uncharacteristically quiet during the Free Agent period as they choose to resign players from within rather than shop the open market. Place kicking has been an Achilles heel in Dallas for over a decade and the Cowboys are hoping PK Shane Graham can fill that void.
Philadelphia made a huge splash during the post lockout Free Agent frenzy and many have the Eagles as the team to beat in the NFC East. Big names such as CB Nnamdi Asomugha, RB Ronnie Brown, and QB Vince Young, will all be hanging their hat in Philadelphia this season.
New York looked good in Week Two Preseason action as the Giants pounded the Bears 41-13 on Monday Night Football. The win was overshadowed by the loss of starting cornerback Terrell Thomas who is out for the season with a torn ACL. We see a long season ahead for the G-Men.
What can you say about the Washington Redskins? Under the ownership of Daniel Snyder, the Skins have taken the helm as the most dysfunctional team in football. Washington was busy on the Free Agent market but we see them as the NFC East cellar dwellers for a fourth consecutive season.
NFL 2011 – NFC East Predicted Order Of Finish
Dallas Cowboys
Philadelphia Eagles
New York Giants
Washington Redskins
>>> Bet On The 2011 NFC East Champions At Bodog <<<