NFL 2011 Future Betting: Divisional Champions
Are you ready for some football? Are you ready for some NFL football betting? In just five short days the world will be watching as the Super Bowl XLV Champion Green Bay Packers welcome the Super Bowl XLIV Champion New Orleans Saints to historic Lambeau Field to kickoff the 2011 NFL season. Hit it Hank – we're more than ready for some football!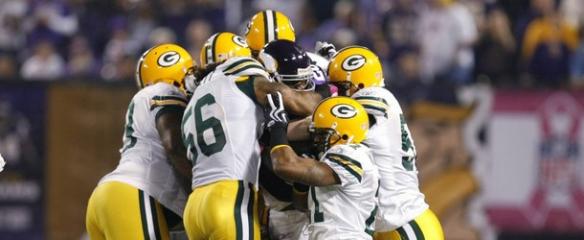 Before we get to the Main Event on Thursday night, we decided to take a look at the two divisions that the Packers and Saints represent. BetOnline.com has released their Odds To Win the NFC North and South. It's no surprise that both Green Bay and New Orleans are the favorites to win their respective divisions.
Odds To Win The NFC North: The Mighty Have Fallen!
Wow! While we expected the Pack to be back on top of the NFC "Norris" Division, we certainly didn't expect to see the Vikings fall as far as they have. Their chances to finish first are limited at best but, if Donovan McNabb can regain his Pro Bowl form, we see Minnesota having a shot at surprising here. Don't forget that they still have the best player in the NFL, RB Adrian Peterson, as well as a wealth of receiving targets.
The Bandwagon in Motown is getting crowded and the Books have picked up on the vibe as well. The Detroit Lions, those lovable losers of old, are the second favorite to win the NFC North in 2011. Chicago comes in as the third chalk but we see a solid fourth place finish in their future.

Odds To Win The NFC South: The Battle Continues!
In what has become one of the best divisions in football, the New Orleans Saints (+105) have been posted as a microscopic favorite to win the NFC South. Right on their heals is the Atlanta Falcons who have been nudged a nickel higher at +110.
The upstart Tampa Bay Buccaneers will be hard pressed to match their 10-6 record from last year and will have to settle for third in the division again this season. At +2200 the Carolina Panthers are the second longest shot on the board (Buffalo Bills +2500) to win a Division Title.

>>> Take the Almost Free Money and back the Packers and Saints at BetOnline <<<