NFC Championship Futures Prices: NFL 2014 Playoff Wagering
Though very excited that National Football League action is back, but not thrilled by preseason wagering of any kind, today we look at NFL 2014 playoff betting with a focus on the NFC Championship futures prices. The NFC West owns top chalk here as the San Francisco 49ers and Seattle Seahwaks are posted as favorites to play in Super Bowl XLVIII at MetLife Stadium in February 2014! With just 173 sleeps until Super Bowl Sunday – the countdown is on Baby!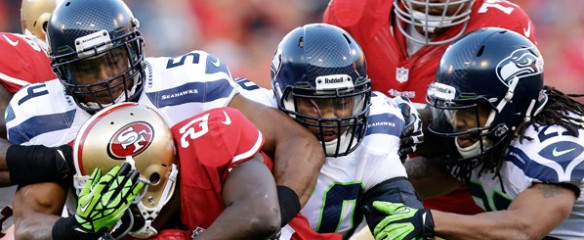 San Francisco: Top chalk to repeat as NFC Champions
Following an NFL 2013 campaign that saw San Francisco post a 11-4-1 record and then take out the Packers and Falcons to win the NFC Championship, the 49ers are top chalk to repeat the feat. We'll we aren't jumping on the Niners bandwagon anytime soon, the bookmakers at bodog.eu have posted the defending NFC Champs as 4/1 favorites to play in the Super Bowl.
 With some concerns on offense the 49ers being chased by the Seahawks
While we're OK with the 49ers defense, though we feel it's slightly over-rated, we are more concerned about the offense. The Gold & Red will be led by sophomore QB Colin Kaepernick and teams have had seven months to watch tape of this 2012 NFL rookie. Plus, his top target Michael Crabtree (Achilles) is out until Week 12 or so and he may not play at all this season.
2014 NFC Championship Futures Prices – Courtesy of the Bodog Online Sportsbook
Checking NFC Championship futures prices posted on the bodog.eu betting board, we find the 49ers tagged with a 4/1 chalk line. NFC South Division mates, the Seahawks Seahawks are second favorites with 5/1 odds, while the Green Bay Packers hit the board third with an 11/2 price. A couple of high octane NFC South clubs, the 7/1 Atlanta Falcons and 10/1 New Orleans Saints, round out the top five NFC Champion contenders list. We are going to hold off on making a call on these lines – until we get the dreaded NFL preseason games out of the way.