New betED Sportsbook InPlay Live Betting Platform Is Here
betED.com has been an innovator in online betting since 1996. Continuing in that vein, betED has launched their new InPlay Live Betting Platform. This exciting new wagering option allows bettors to place wagers while the action is being played live! Bet on the outcome game, or just a portion of the game, as well as prop bets on the next play or score. The betED InPlay betting platform makes sports betting an interactive experience so get in the game today!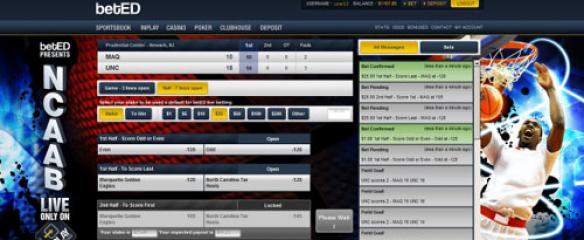 The new betED Sportsbook InPlay Live Betting Platform as arrived! The innovative wonders at beted.com are the lastest sports wagering website to add a Live Betting Interface to their sportsbook menu.
betED spokesperson, Max Harvey, just delivered the juicy live betting details to us here at ASB. We are always pleased to share the advantage of live sports betting with our readers.
Live Betting Has Arrived at the betED Website
Already popular in Europe, quite simply Live Betting allows someone to wager after a game has started on a wide array of in game props.  betED's Live Betting interface can and can be accessed not only from a PC  desktop or Laptop but also from the iPad and various smart phone devices.
betED.com Live Betting Geared to North American Bettors
While BetED has borrowed from the European concept of live betting it also has also catared elements to North American gamblers such as immediate notification upon winning and subsequently having ones account credited in real time. For more on the live betting interface at BetED.com, go to their website to learn more about their new and exciting way to make a wager.
Live Wagering – In Game Betting Lines – Instant Winning
With the betED InPlay Live Betting Platform bettors can wager on sports action with live betting lines and real time odds. As the flow of the game changes, so do the odds. In game betting lines allow bettors to wager on the next play, the next score, even which player will commit the next foul, all while the action is being played out live.
The winning is instant as all bets are paid immediately so join betED.com and get in on the action today!