NCAA College Football News: Rivalry Week
Week 13 of the NCAA College Football season brings us a plethora of games that make up Rivalry Weekend that's highlighted by "The Battle for the Golden Boot" as the Louisiana State University Tigers hosts the Arkansas Razorbacks from Tiger Stadium.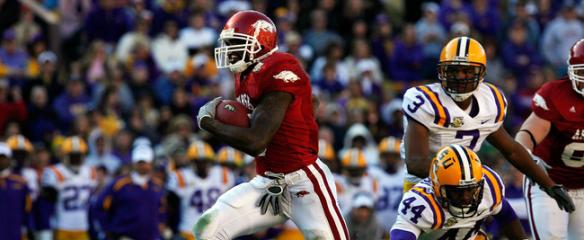 Thanksgiving Weekend isn't reserved solely for NFL action as the NCAA also kicks it up a notch with rivalry games across the board. While the biggest game of the weekend is LSU vs. Arkansas, other top contests include Alabama vs. Auburn, and Ohio State hosting Michigan.
LSU vs. Arkansas: Battle For The Golden Boot
There is a ton at stake as the Tigers and Razorbacks battle in Baton Rouge on Friday. Some have gone as far as saying that this is the biggest game, at Tiger Stadium, in over a half decade. The LSU Tigers home field, also known as Death Valley, hosts this contest that has serious implications on the BCS standings, as well as the NCAA National Championship.
It's been 52 years since the Bayou State hosted a regular season NCAA football game of this magnitude. Back in 1959 the Tigers were also sitting with the number one rank in the NCAA as they battled the number three ranked Mississippi Rebels. In that contest, played on Halloween night, LSU won 7-3 thanks to an 89-yard punt return for a touchdown.
Top BCS Championship Rankings On The Line
Fast forward to Thanksgiving Weekend 2011 and the Tigers find themselves with the #1 ranking again. This time around, the number three ranked Razorbacks are their opponent. With a possible trip to the BCS National Championship on line for both teams, the stakes are very high. This contest is definitely must see championship caliber college football!
A win by the Tigers would virtually punch their ticket to the Louisiana Superdome, and the National Championship, in January. An upset win by the Razorbacks, who are -14 point underdogs, could leave six teams with one loss and make a total mess of the BCS Standings.