NCAA Basketball Championship: March Madness Final Prediction
Are you ready for some NCAAB March Madness in April? Hoop action and anticipation, that started way back on March 21, has reached a feverish crescendo as the Louisville Cardinals are set to face the Michigan Wolverines in the Championship Final. Tip-off, for what should be an amazing contest, is scheduled for 9:23 PM ET on Monday, April 8, 2013, from the Georgia Dome, in Atlanta, GA. We like the Maize and Blue in this Championship battle tonight!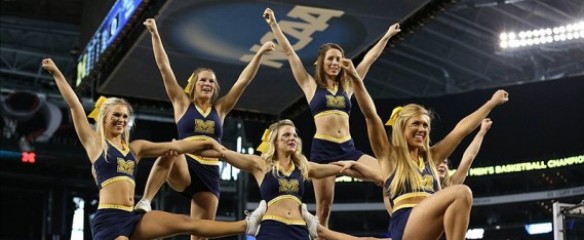 Michigan Wolverines: Set to party like it's 1989
Ranked as the #3 seed back in 1989, the Michigan Wolverines won their first and only NCAA Men's Basketball Championship with a thrilling 80-79 overtime win over Seton Hall. Fast forward to 2013 and the Maize and Blue are looking to become the 15th school to earn multiple titles. Four wins, by 15, 25, 20, and five points, sandwiched the Wolverines tournament defining moment as Michigan defeated #1 ranked Kansas 87-85 in OT during Game 3 action.
Louisville Cardinals top defense meets Wolverines top offense
Michigan, who have already beaten the 3rd, 5th and 6th best defenses in the Nation, get the #1 ranked Cardinals defense tonight. Michigan is led by point guard Trey Burke who is looking to add a Championship trophy his resume. Burke has already received the AP National Player of the Year award, the Oscar Robertson Trophy, the John R. Wooden Award, and Naismith awards this season. It won't be easy, but we like the Wolverines Championship chances.
Michigan vs. Loiusville NCAAB Championship Odds & Game Day Call
Surfing over to the bet365.com sportsbook, we find the Louisville Cardinals as -4 (-110) point favorites against the spread and -185 on the money line. Michigan invades the Georgia Dome as +4 (-110) underdogs ATS and +165 S/U while the game total is posted at 138 (-110) points. After cruising through their first four contests, the Cardinals escaped Final Four action with a 72-68 win over #9 ranked Wichita State Shockers – tonight's tussle will be close as well.
Advantage Sports Betting NCAAB March Madness Championship Prediction
We'll split our bet and back Michigan with the +4 (-110) and the -185 ML at Bet365!