NBA Playoffs: Futures Betting Lines Opening Series Prices
Online sports bettors are running out of time to get in on the odds for the four series that haven't started in the 2013 National Basketball Association first round playoffs. The Atlanta vs. Indiana, San Antonio vs. Los Angeles, Miami vs. Milwaukee, and Houston vs. Oklahoma City series are still up on the sportsinteraction.com betting board. They will disappear once play begins on Sunday, April 21, 2013, starting with the Hawks vs. Pacers contest at 1:00 PM ET.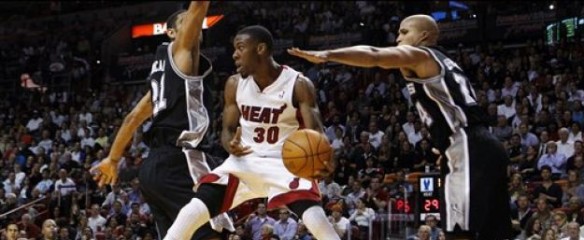 Thick chalk abounds in NBA first round playoff series
Checking in at SportsInteraction we find that three of the four series that still aren't underway are dominated by heavy favorites. Miami  isn't even posted with a line to win their best of seven against the Milwaukee Bucks who are +6500 underdogs to knock off the Heat. Houston isn't being given much of a chance against  Oaklahoma City as the the Thunder are -2500 to win that series while the Rockets have a +1150 line. The Thunder and Heat will roll on.
Lakers and Hawks are underdogs versus the Spurs and Pacers
Prices even out a little on the other two series as San Antonio is a -833 favorite to knock of the Kobe Bryant-less Lakers who are priced at +550 to knock of the Spurs. In the battle between Atlanta and Indiana, the Pacers are favorites at -386 while the Hawks are pups with a +300 price. Looking at the Series Correct Score lines, we like the Heat to sweep the Bucks with the -154 price and Spurs to win their series against the Lakers 4-1 with the +165 odds.