NBA Imposed 2011 Lockout Heading To The Courtroom
Any hopes that the NBA won't cancel their 2011-12 season pretty much went up in smoke after recent moves by the National Basketball Players Association. NBA labor negotiations have turned to anti-trust lawsuits being filed by the players against the NBA.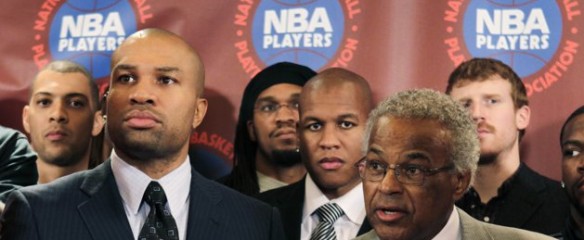 Fans have good reason to be concerned over the recent developments regarding the labor issues swirling around the National Basketball Association. The NBA imposed 2011 lockout has been a labor issue for over three months now.
Recent actions, by the NBPA, makes this an issue that has the potential to be a nasty and drawn out affair – that will eventually be decided in the US Court system.
National Basketball Player Association Dissolves Union
Hopes that the 2011-12 NBA season could be salvaged took a huge blow when the NBPA voted to dissolve their Union back on November 14, 2011. The move, which disbands the Union and makes it a trade organization, opened avenues for NBA players to file anti-trust lawsuits against the NBA and its Owners.
On Tuesday, November 15, 2011, NBA players took advantage of the move and filed federal class action lawsuits against the NBA. In part, the lawsuits claim that the 30 teams of the NBA conspired to employ tactics including an "unlawful group boycott" and to using a "price-fixing arrangement" in their labor negotiations.
The first anti-trust action was brought forward on behalf of James Butler, formerly of the Dallas Mavericks, Derrick Williams and Anthony Tolliver who play for the Minnesota Timberwolves, along with Ben Gordon from the Detroit Pistons
Commissioner David Stern – NBA Owners: Discuss Labor Issues
NBA Owners and Commissioner David Stern reportedly had a conference call, that lasted for just 20 minutes, on Thursday, November 17, 2011. While the purpose of the call was to discuss the ongoing labor issues, we are positive it was spurned on by the the anti-trust lawsuits filed by the NBA players on Tuesday.
No matter how you slice it or dice it, or which side of the court of public opinion you are on, this is all very bad news when it comes to the 2011-12 NBA season. NBA fans, along with the people who work in peripheral capacities, in the cities that have an NBA franchise, are the people who get left on the sidelines. Out of teams to cheer for, and out of work.
Billionaires Battling Millionaires Part Two – Beautiful!