NBA Finals Betting Odds Heat vs Mavericks Free Pick
Tonight we feature NBA Finals Game Six Betting Odds for the Miami Heat vs. the Dallas Mavericks along with our daily Free Pick. It's now or never for the "Royal Trio" as Dallas holds a 3-2 series lead and can take down the 2010-11 NBA Championship in South Beach tonight.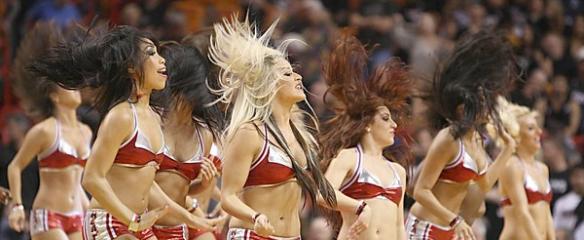 NBA Finals Betting Odds Heat vs Mavericks Free Pick: The last time the Heat played at home was Game Two in what has turned out to be a very pivotal game. Miami was up by 15 points with less than seven minutes to play but let the game slip away.
Dallas won two of three games at home and now the series shifts back to Miami with the Larry O'Brien Trophy in the house. Game Six tip off is scheduled for Sunday, June 12, 2011, at 8:00 PM ET from the AmericanAirlines Arena in Miami, Florida.
NBA Finals Game Six Betting – Mavericks @ Heat
No matter how you slice it, the Mavericks have been the better team in this series and Miami is fortunate to be playing in a Game Six.
Dallas blew Miami out of the gym during Game Five as they were firing on all cylinders. The Mavericks drained 13 of 19 shots from beyond the arc. The Heat couldn't answer back as they were a desperate 8-20 on three point shots.
A repeat performance by both teams will see the Mavericks crowned as NBA Champions for the first time in the Dirk Nowiztki era.
Don't ask Lebron James for change for a dollar because he only gives three quarters. King James has poured in all of 11 total points in the final period of the first five games combined. The crown has turned to a choke collar and it's getting tighter by the minute.
NBA Finals Betting Odds – Heat vs. Mavericks ­- Free Pick
The NBA Finals Betting Odds for Game Six are courtesy of the Bodog.com online sportsbook.
Fans of the NBA around the world, and even the NBA itself, want to see a Game Seven decide the 2010-11 Championship. With labor strife looming, this could be the last NBA hoop action we see for awhile.
We are going to stay on the Heat bandwagon for at least one more game. If Miami has any pride at all, they will get up off the mat tonight and force a Game Seven for all the marbles.
Take the Heat over the Mavericks at -230 on the Bodog Money Line!