NBA Eastern Quarterfinal Playoffs: Four Teams On The Brink
With San Antonio defeating the Utah Jazz with an 87-81 Game Four win tonight, the Spurs join the Oklahoma City Thunder as the only teams to sweep their Quarterfinal National Basketball Association playoff series. That said, with the Los Angeles Clippers up at halftime against the Memphis Grillies – six teams could be in a 3-1 series hole. It's been fantastic NBA action so far!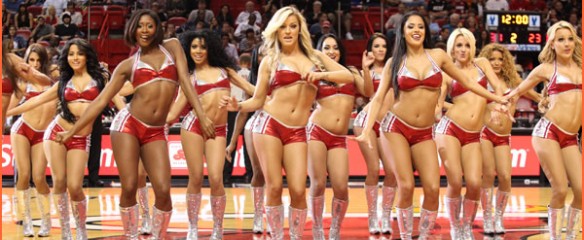 NBA Playoffs: Four Eastern Teams Looking To Advance
Two out of the four series in the NBA East head back to the home of the 3-1 series leading favorites as NBA playoffs continue. The other two series head back to home of pre-tournament favorites with the chalk teams in a 3-1 series hole. In Tuesday night NBA playoff action, the Pacers will try to advance, on their home court in Indiana, against the Orlando Magic.
It appears that the loss of NBA MVP Derrick Rose has taken the wind out of the Windy City as Chicago will try to stay alive against the No. 8 seed Philadelphia 76ers. Since the bloom came off the Rose, Chicago has lost three straight games. Meanwhile the No. 5 seed Hawks return to Atlanta down 3-1 in their series against the Boston Celtics. All three games go Tuesday.
Miami Heat Drop Game Four – Four Looking For A Wednesday Wrap
Wednesday night NBA playoff action features the Miami Heat looking to close out the New York Knicks in South Beach. Look, when you are paying a kings ransom, to the "King and His Court" a Game Five home game is worth a bundle of cash. We're not saying that the Heat booted Game Four – we're just saying we'd be shocked if this series goes to a sixth game.
Thrilling NBA Playoff betting action continues are our top rated and highly recommended online sports betting websites. Out of the four games, over the next two days, we see three series ending – with the Bulls showing some pride and scoring a home win over the 76ers. Bet on it!