NBA 2012 All-Star Game Starting Rosters Announced
As the lockout shortened 2012 NBA season nears its halfway point, the NBA All-Star rosters have been finalized and announced. For the first time since 1992, the weekend festivities return to Orlando Florida – where Magic Johnson made his triumphant return two decades ago.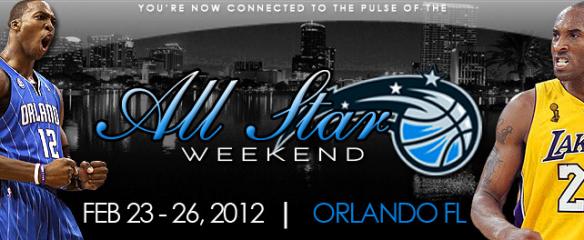 Orlando, Florida will be a hot bed of excitement on February 24, 25 and 26, 2012 as the best of the best hit the hardwood for the annual NBA All-Star Weekend festivities. Events such as the All-Star Jam Session, the Rookie Challenge, and the Celebrity Game, all leads up to the All-Star Classic on Sunday, February 26, 2012, from the Amway Center at 7:00PM EST.
Eastern Conference 2012 NBA All-Star Starters
Not much has changed from the 2011 All-Star game as four of the five Eastern Conference starters return for the 2012 edition. The NBA East starters are, Dwight Howard from the hometown Magic, NMB MVP Derrick Rose from the Chicago Bulls,  along with hated rivals Dwyane Wade and LeBron James from the Miami Heat.
New York Knicks forward Carmelo Anthony replaces teammate Amare Stoudemire to round out the Eastern Conference starting roster. "Mello" started for the Western Conference in 2011 as he represented the Denver Nuggets prior to a post All-Star blockbuster trade that saw him land in the Big Apple.
Western Conference 2012 NBA All-Star Starters
Over in the West, three 2011 NBA All-Star starters return as Kevin Durant represents the Oklahoma City Thunder, Kobe Bryant is back from the Los Angeles Lakers as he gets his 14th All-Star nod, while Chris Paul trades in his New Orleans Hornets jersey  to represent his new team, the Los Angeles Clippers.
With Anthony over in the East, and Tim Duncan missing his first All-Star game after 13 appearances,  Andrew Bynum from the Lakers makes his first All-Star appearance – as a starter no less. Power forward Blake Griffin from the Clippers will be pounding home jams in his second straight All-Star Classic – his first as a starter, to round out the West starters.