MLB Weekend Schedule: Interstate Rivals Clash In NY and CA
With the NHL and NBA Championship Finals now history, as well as NFL and NCAA football slumbering until late August, North American sports handicappers can now turn their sole attention to Major League Baseball. As the Boys of Summer near the halfway point of the 2012 MLB season the divisional races are tight across the board. Interstate rivalries, featuring Championship contenders, take center stage this weekend in New York and California.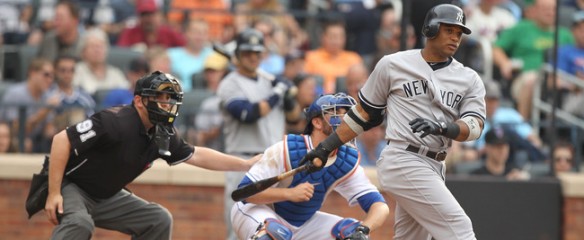 Yankees vs. Mets: Start Spreading The New York News
Dating back to 1997, the New York Mets and New York Yankees have played their version of a "Subway Series" with the Bronx Bombers thoroughly dominating the Metropolitans. There have been 87 games, played over 15 official regular season series, with the Yankees hold a 52-35 advantage. Further to that, the Gotham Gang have a 7-2-6 series leading record.
Over the last 17 seasons, the Yankees (1st ALE at 41-27) have made it to the MLB postseason 16 times and they have won five World Series Championships. The Mets have three playoff appearances and zero World Series titles. Though they haven't been very Amazin' in recent years, a resurgence by the Mets (2nd NLE at 38-32) has made this series watchable again.
Dodgers vs. Angels: California Diamond Action Dreamin'
On the left coast, baseball betting fans get treated the Freeway Series as the Los Angeles Dodgers battle the Los Angeles Angels this weekend. This all California clash has been fairly lopsided as well as the Halo's hold a 52-37 all-time advantage. The previous 15 series have Boys from Anaheim leading the Chavez Ravine Crew by an 8-3-4 margin.
After back-to-back seasons of turmoil, the Dodgers have climbed out of mediocracy as Big Blue is off to a fantastic first half start. The Dodgers own a 42-28 record and lead the NL West by four games over the San Francisco Giants. It's not surprising that the turn around coincided with Magic Johnson & Co. wrestling ownership of the club away from Frank McCourt.
Despite back-to-back loses to the Atlanta Braves, the Yankees are hot – having won 13 of their last 17 contests. After a horrible start to the season, the Angels have gone on a 20-7 tear since May 22. They also just took two of three from the Giants – one with ace Jered Weaver back on the bump. We like the hotter clubs to win these three game series this weekend!