MLB Playoffs: American League Divisional Series Preview
After an epic, almost surreal, finish to the 2011 MLB Season, the baseball postseason drama is upon us! The Texas Rangers host the Tampa Bay Rays in late afternoon action, while the New York Yankees and Detroit Tigers hook up under the lights in the Bronx tonight.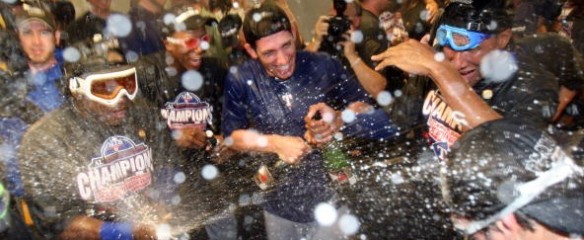 MLB Playoff betting action gets underway at 5:00 PM ET at Rangers Ballpark in Arlington, Texas on Friday, September 29, 2011, as the Rangers host the Rays.
MLB Playoffs: Rangers vs Rays ALDS Game One
For the second straight year, Tampa Bay and Texas with battle for the right to go to the American League Championship Series. In the 2010 ALDS the Rays had home field advantage – make that home field disadvantage.
This series went the full five games last year, the visiting team won all five contests, and Texas topped Tampa with a 3-2 series win.
Not many saw this rematch coming after Texas fired out of the gates at 9-1 while the Rays stumbled to 2-8 through the first ten games of the season. By the All-Star break their records were almost even at 51-41 Texas and 49-41 Tampa Bay.
We expect the Rangers to romp over the Rays is this series.
ALDS Game One: Tigers vs Yankees MLB Playoffs
The New York Yankees (East Champions, 97–65) and the Detroit Tigers (Central Champions, 95–67) have had their fair share of epic playoff match-ups in the past. We expect that  this series will rival any of them.
Both clubs boast great hitting, fantastic starting pitching, and, when the games on the line late, their bullpens are simply superb.
If there was a 2011 CY Young Award race this season, Yankees LHP CC Sabathia would be a front runner to win it. Unfortunately for Sabathia, his mound opponent  tonight, Tigers RHP Justin Verlander, is going to be the runaway winner of the coveted CYA.
We like the Tigers to take Manhatten and top the Yankees in this series.