MLB Handicapping National League West Second Half Chalk
With the Major League Baseball All-Star Game now just a week away, today we take a look at the National League West second half betting favorites. The mid-summer Classic goes on July 10, 2012, from Kaufman Stadium in Kansas City, Missouri. After leading the NL West, for the majority of the first half, the Los Angeles Dodgers have fallen on hard times recently.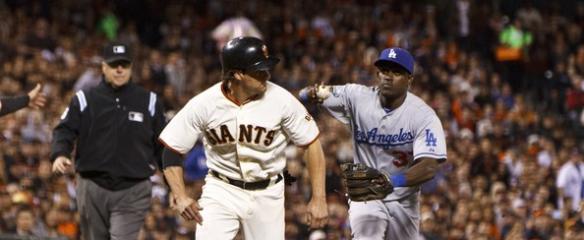 San Francisco Giants: National League West Leaders
There's a new leader in the National League West Division. After the Los Angeles Dodgers owned the NL West, by leading the division at the end of April and May, the San Francisco Giants have now caught the Boys from Chavez Ravine. Back on June 17, the Dodgers had a 42-25 record and a five game lead over the Giants – now that lead has fully evaporated.
Fourteen days and just one win later, Los Angeles has seen their record drop to 43-36 and they are now a game back of San Francisco. It's not so much that the Giants have been on fire (9-8 over their last 17 games) but more about the Dodgers coming back to the pack with their recent 5-14 run. The NL West looks like it will be an all California battle in the second half.
Arizona Diamondbacks: Best Of The Rest In The NL West
At just four games back, at the end of June, the Arizona Diamondbacks may have a say in the NL West before things are all said and done. The D-Backs started the 2012 MLB season with a 23-28 record through May. Their recent 16-10 run has them a game over .500 at the end of June. It's wait until next year for the Colorado Rockies and San Diego Padres.
We see the Dodgers free fall ending soon and we like Los Angeles to win the National League West over their northern neighbors. Handicappers can get in on second half MLB wagering with the top rated online sportsbooks recommended here at ASB. From daily baseball wagering action, to NLCS and World Series futures betting, these offshore betting giants have the Boys of Summer covered straight through to the 2012 MLB Playoffs in October!