MLB Free Prediction: Orioles vs. Red Sox Betting Lines
While all eyes are on Derek Jeter's historic pursuit of 3,000 hits, we can't resist using today's MLB free prediction on the Baltimore Orioles vs. Boston Red Sox betting lines. Boston has streaked their way back into first place, while the Orioles are 15 games back in dead last, in the American League East. We're backing the boys from Beantown tonight baby!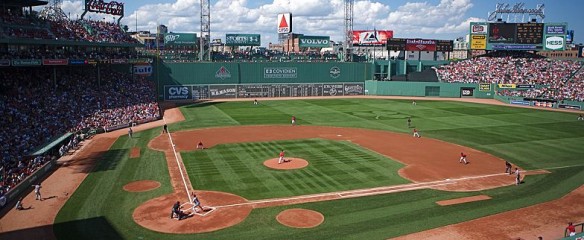 MLB Free Prediction Orioles vs. Red Sox Betting Lines: Boston (52-35) has gone 7-3 over their last ten games to gain a 0.5 lead, over the New Yankees, in the AL East. Meanwhile, Baltimore (36-49) is headed in the opposite direction as they have just one win in their last ten contests.
This American League East Baseball wagering action has its first pitch slated for 7:05 PM ET on Friday, July 8, 2011, from historic Fenway Park in Boston, MA.
Game Day: Orioles @ Red Sox Probable Pitchers
Baltimore has been spiraling downward rapidly as they have a 6-18 record since May 11, 2011. It doesn't get any easier tonight as Boston sends RHP Josh Beckett (7-3 2.12 ERA) to the hill. Beckett owns the third best ERA in the majors as he has allowed just 25 runs in 106 innings pitched.
Rookie LHP Zach Britton will oppose Beckett as he makes his first ever start at Fenway Park. Britton opened the season with a 4-1 record in April but has just two wins since May 1, 2011. In his last start, Britton pitched five innings of six hit ball, allowed three runs, and earned a no-decision against the Atlanta Braves.
Red Sox vs. Orioles Betting Lines – MLB Free Prediction
After researching the Red Sox vs. Orioles betting lines, we jumped on the point spread odds at the BetOnline online sportsbook as they will only go up – not in our favor. Remember, getting the best wagering odds is a bettors best friend!

With all due respect to the rookie, who has had a decent first year – on a bad ball club, Britton is in over his head here. In 85 games, Baltimore has scored 346 runs while Boston has pushed 460 runs across the plate in 87 games. The Red Sox launched six home runs, including back-to-back-to-back shots in the seventh inning, in a 10-4 rout of the Birds last night.
One has to wonder what the Red Sox record would look like without the 2-10 start to the 2011 MLB season. Boston leads the majors in almost every primary category on offence, including the best team batting average (.276) in baseball.
With Beckett on the hill, the Boston bats booming, and the Orioles in a world of hurt, the Bodog Point Spread seems like a gift from the bookies. While these gifts should always be scrutinized, we are going ride the Red Sox tonight.
Back Boston over the Orioles at -1.5 (-105) with the BetOnline Point Spread!