MLB Free Pick: Tigers vs. White Sox Wagering Lines
Today we feature the hottest team in Major League Baseball as the Detroit Tigers visit the Chicago White Sox in an American League Central match-up. A win tonight will cut the Cats AL Central clinching magic number to five games. Load up on the Tigers in this one!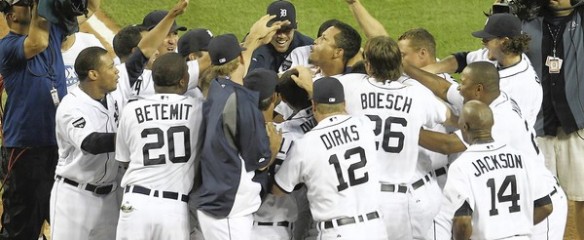 Welcome to today's Major League Baseball Free pick featuring the Chicago White Sox hosting the white hot Detroit Tigers in the first match-up of an important three game series. The Tigers can get to one game of clinching the AL Central Title if the can sweep the Sox.
First pitch for this MLB betting action is slated for Monday, September 12, 2011, at 8:10 PM ET  from U.S. Cellular Field on the south side of Chicago, Illinois.
Detroit @ Chicago: MLB Game Day Preview
It's all about peaking at the right time! The Tigers are doing just that, as their current nine game winning streak is their longest since a nine game run during their World Series Championship season back in May of 1984.
This would also be the Tigers first ten game winning streak since they went on an 11 game tear back on September, 9-21, 1968, which was also a Championship Season.
For their part, the White Sox are clinging to the slimmest of slim playoff hopes as they sit 10.5 games back of the Motor City Cats with just 17 games left on their 2011 MLB schedule.
Chicago has lost seven of their last twelve games, after they went on a 7-3 run to close out August, and you can put a fork in 'em, as they are done!
Baseball Betting Lines: Tigers @ White Sox Free Pick
Today's baseball betting lines, for our Tigers @ White Sox Free Pick, can be found in the Sportsbook at the JustBet.com online sports wagering website. While they appear to be a sports betting gift, which we always a little leery of, when a team is as hot as the Detroit Tigers are – you just have to roll with them!

The pitching match-up is fairly even but the Tigers are a full 20 percentage points better than the White Sox when it comes to team hitting.
Detroit wants to clinch the AL Central, sooner rather than later, and they will be motivated to crush Chicago during this three game series. Take the "gift" and load up on the Motor City Cats!
>>> Take DET over CHW at +1.5 (-190) on the JustBet Run Line <<<