MLB Betting Odds Cardinals vs Phillies Free Pick
National League Division leaders clash as we bring you MLB betting odds, along with our daily free pick, for the Philadelphia Phillies visiting the St. Louis Cardinals from the shores of the Mighty Mississippi river at the Gateway to the West.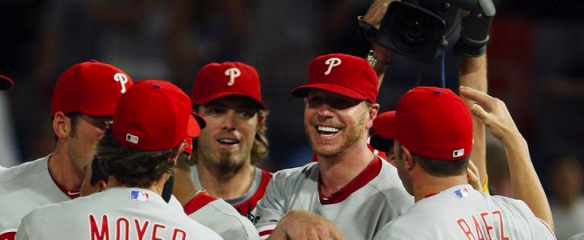 MLB Betting Odds Cardinals vs Phillies Free Pick: Two teams heading in opposite directions battle in shadow of the Gateway Arch as the NL East leading Phillies (45-28) meet the NL Central leading Cardinals (40-33).
First pitch for this Major League Baseball betting action is slated for 8:15 PM ET on Tuesday, June 21, 2011, from Busch Stadium in St. Louis, Missouri.
MLB Game Day Betting Preview – Phillies @ Cardinals
The soft hitting Phillies bats went silent in Seattle on Monday night (2-0 loss), but Philadelphia has gone 8-2 in their last ten games. They currently own a 4.5 game lead over the second place Atlanta Braves in the NL West.
RHP Roy "Doc" Halladay (9-3 2.56 ERA) is trying to become the first ten game winner in the majors this season. Doc has a lifetime 2-0 record with a miniscule 1.13 ERA against the Cardinals. In his last outing, on 06/15/2011, the good doctor had a no-decision against the Florida Marlins as the Phillies won 5-4 in ten innings.
Though they have won two straight games, things haven't been running as smoothly for the Cardinals as they have lost eight of their last eleven games. Their advantage in the NL Central has shrunk to just a half game over the Milwaukee Brewers who have also stumbled of late.
In his second start, after a 15-day stint on the disabled list (hip injury), RHP Kyle McClellan (6-3 .396 ERA) heads to the hill for the Cardinals. McClellan, who is a reliever turned starter, got off to a 4-0  start this season He pitched five innings in his last start, giving up seven hits and three earned runs, as the Washington Nationals clobbered the Cards 10-0 on June 15, 2011.
Online Sports Betting Odds –Cardinals vs Phillies MLB Free Pick
Today we feature MLB online sports betting odds for the Cardinals vs Phillies from the sportsbook at the JustBet.com sports wagering website.

This is not a good stretch for the Cardinals as they will face The Doc, Cole Hammels and Cliff Lee over the next three days. Those three pitchers have a combined 25-11 record with 328 strikeouts.
St. Louis also faces the challenge of playing without their best hitter, Albert Pujols, who will miss at least four weeks with a fracture in his right wrist suffered on Sunday versus the Kansas City Royals.
With Halladay dealing on mound, the Phillies will also get a boost from slugger Ryan Howard who loves heading to his hometown of St. Louis. In his career at Busch Stadium, Howard has been a lights out as he has owns a .360 batting average (54-150) with 46 RBIs and 15 homeruns in 40 games.
We don't expect a lot of runs in this match-up tonight, as the 7.5 game total seems a bit lofty, and we do like Halladay on the Hill for Philadelphia.
Take the Phillies over the Cardinals at -166 on the JustBet Money Line!