MLB Betting Lines: Mariners vs Red Sox Free Pick
Two ball teams that are headed in opposite directions clash as we bring you MLB betting lines, along with a Free Pick, for the Boston Red Sox hosting the Seattle Mariners. The BoSox can grab a three game lead in the AL East, while the M's have lost 13 straight games. Boston is also challenging the Phillies for the best record in baseball. Back the Boston Bashers here!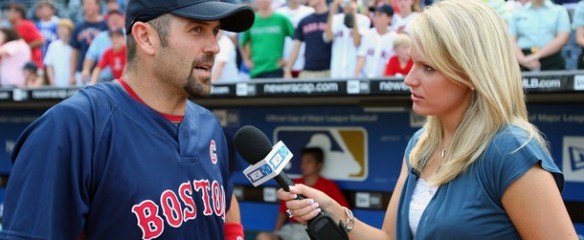 MLB Betting Lines: Mariners vs Red Sox Free Pick: Boston (60-37) is looking to pile on Seattle (43-56) as they took the series opener by a 7-4 count. The Red Sox can keep the scoreboard operator busy in bursts as is evident by their five run seventh inning on Friday.
Red Sox Nation will be out in full force as Fenway Park in Boston, MA, hosts this Major League Baseball wagering action on Saturday, July 23, 2011, at 7:10 PM eastern time.
MLB Game Day Preview: Mariners @ Red Sox
It's a tale of two ball clubs as the Red Sox have won eight of their last ten contests and have a 2.5 game lead over the New York Yankees in the American League East.
RHP Josh Beckett (8-3 2.12 ERA) who pitched eight innings of one hit shutout ball in his last start gets the call for Boston tonight. Beckett's gem earned him a no-decision, as the Red Sox and Tampa Bay Rays needed 16 innings before Boston pulled out a 1-0 win.
For the Mariners, who were even at 43-43 and fighting for a playoff spot back on July 6, 2011, the season has slipped away as they are mired in their worst losing streak since 1992.
Rookie RHP Blake Beaven (1-1 2.70) starts for Seattle as they try to avoid matching their worst losing skid in club history at 14 loses. Beaven has had three solid starts since being called up to the Majors on July 17, 2011, but he is in over his head on the road in Boston.
MLB Betting Lines: Seattle vs Boston Free Pick
We are able to scan the MLB betting lines, from the top online sportsbooks, with one click of the mouse with our odds comparison app. The Sox vs M's line odds are going to climb so we are jumping on the early betting line at Bodog.


While we may not be getting the best value with tonight's free pick – we can't pass on this game. An old betting adage states that more money is lost betting on streaks to end than any other way. We don't see the Mariners losing streak ending any time soon.
There are a ton of reasons to like the Red Sox in this one. They are at home (29-17) facing a rookie pitcher, they have an ace in Josh Beckett on the bump, and the Mariners are sporting a dreadful 18-29 road record. Oh, by the way, the Yankees lost 4-3 to the Oakland Athletics earlier today.
Need more? How about the Mariners owning a league worst .224 team batting average while the Red Sox lead the Majors by mashing at  a .277 clip. Boston has plated 526 runs, along with 120 home runs – Seattle has scored 323 runs with a paltry 61 big flies. Yikes!
We get the point and, being as such, we are going to triple our average betting stake (not something that should be done very often) and side with the Boys from Beantown tonight!
Take the Red Sox at -1.5 (-135) over the Mariners with the Bodog Point Spread!