MLB American League Playoffs: Rays Roll While Rangers Reel
The Tampa Bay Rays, one of the hottest teams in Major League Baseball, punched an equally hot Texas Rangers team in the face yesterday to take 1-0 lead in the ALDS yesterday. The other half of the ALDS was washed out as the New York Yankees vs. Detroit Tigers game was suspended, in the bottom of the second inning, with the scored tied at a run apiece.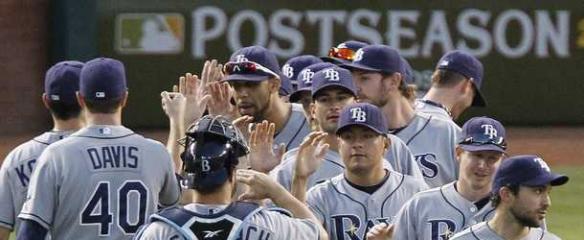 Both American League Divisional Series resume tonight as the Ray face the Rangers at 7:00 PM ET from Rangers Ballpark in Arlington. The Yankees and Tigers pick up where they left off on Friday from Yankee Stadium in the Bronx, New York, at 8:30 PM ET.
Rays Leave Rangers Reeling – Pound Out 9-0 Game One Win
One has to tip their sports betting toque to the Rays as they continue to show the heart of a lion. Tampa Bay has now won six straight games and they aren't showing any signs of slowing down.
Tampa Bay whacked the Blue Jays, Yankees, and now the Rangers, by a combined 38-16 score over the past seven days. The Rays have been playing in a playoff style mode for over a month now and they are enjoying one of the most remarkable runs in MLB history.
With two veteran pitchers facing each other tonight, we expect a closer game and stand by our call for the Rangers to win the series. We would however take the +1.5 runs (-205) and roll with the Rays in this one!
Tigers vs Yankees: Dry Yourself Off And Get Back Out There
New York and Detroit have shuffled the pitching deck as they hope to complete what they started yesterday. New York will replace CC Sabathia with Ivan Nova, while the Tigers replace Justin Verlander with Doug Fister. With more rain in the forecast tonight, it looks like it's going to be a long night in the Bronx.
In a baseball betting anomaly, BetOnline.com is offering wagering lines on this contest tonight. Your bet has a 1-1 start with both teams batting orders remianing the same as when the game was suspended on the Friday night.
The Yankees will hit first as they come to bat in the bottom of the second. The Game Total betting line  is sitting 9 (-115) and includes the two runs scored on Friday. If they get this game in, we like Tigers with 1.5 runs (-165)  and we love the OVER!