MLB 2011 All-Star Game Wagering Lines Midsummer Classic Free Pick
Of the four All-Star games, played by the North American Big Four, the only one that really counts for anything goes tonight. The 2011 MLB All-Star Game pits the American League vs. the National League for the 82nd time. Top online sportsbooks, like the one at Bodog.com, are offering a ton of betting options and wagering lines for tonight's MLB Midsummer Classic.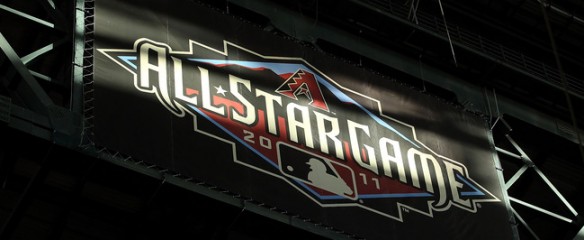 MLB 2011 All-Star Game Wagering Lines Midsummer Classic Free Pick: Say what you want about MLB Commissioner Bud Selig's decision to make the MLB All-Star game count for home field advantage in the World Series – but we love it!
The stars will be shining a little brighter than usual tonight! First pitch for this baseball betting action is slated for 8:00 PM ET on Tuesday, July 12, 2011. Beautiful Chase Field in Phoenix, Arizona, home of the Diamondbacks, hosts this battle of the best players in baseball.
New Stars Make Their First MLB All-Star Game
There will be a ton of new talent on display for both squads tonight as 18 AL players, along with 16 NL players, will be participating in the first MLB All-Star game of their major league careers.
Save for a few collisions here and there, baseball is largely a non-contact sport. The fact that there is something on the line for the players, other than money, also makes tonight's All-Star game "must see" TV.
With their win last year, the National League snapped a streak of seven straight loses and they own a 4-18-1 record over the last 23 games played.
2011 MLB All-Star Game Betting Odds – Midsummer Classic Free Pick
From MLB Player Props and Team Props, to the 2011 MLB All-Star Game itself, Bodog is offering wagering lines for over 60 betting options on tonight's baseball betting action.

Last nights Home Run Derby, won by 76-19 by the American League, shows that the Junior Circuit has some pop in their bats with the likes of Robinson Cano, Adrian Gonzalez, and David Ortiz in the lineup.
The Senior Circuit will counter with strong pitching that features studs like Roy Halladay (2.45 ERA), Jari Jurrjens (1.87 ERA), and Cliff Lee (2.82 ERA). Throw in Clayton Kershaw, along with Tim Lincecum, and the National League have the top four NL strikeout leaders (554 SO in 534.1 innings pitched) on their roster tonight.
Being as such, this contest basically comes down to Braun vs. Finesse. If you feel that good pitching will beat good hitting, you have to side with the National League. If you are of the opinion that solid hitting will overcome solid pitching, you have to take the American League.
Though the American League won the Home Run Derby last night, the National League, with superior pitching, will win the contest that counts tonight.
We see the three main betting options for tonight's baseball betting action at Bodog shaking out like this:
Point Spread: National League
Money Line: National League
Game Total: UNDER
MLB 2011 All-Star Game Free Pick:
Better pitching = National League 5-3 over the American League