Major League Baseball Wednesday Night Betting Buffet
After back-to-back wins with the Rangers and Bengals, we are looking for more tonight as we head to the diamonds of Major League Baseball. There's a lot of competitive action on the betting board such as the Tigers vs. Athletics, Angels vs. Rangers, Dodgers vs Nationals and even the Brewers vs Pirates battle. Past that, there are some studs versus duds match-ups as all 15 MLB contests will go under the lights on Wednesday, September 19, 2012.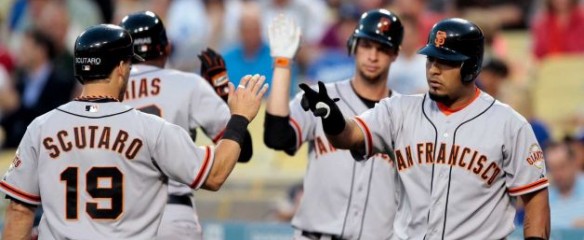 Studs versus duds dot tonight's MLB betting board
Our handicapping crew is not big on taking on competitive teams battling other top teams so it took some digging to come up with our free pick today. In the end we were torn between the Phillies mashing the Mets, the Reds ripping the Cubs, the Cardinals crushing the Astros, or the Giants roughing up the Rockies. While we would never suggest betting all four contests, we do like the teams with the better records, and who have more to play for, in these match-ups.
Pitching match-ups say back the teams in playoff contention
LHP Cole Hammels (15-6 ERA 3.06 ERA) and RHP Matt Cain (14-5 ERA 2.93) of the Phillies and Giants, get the Mets and Rockies respectively. These are two of the best pitching match-ups on tonight's schedule. While Philadelphia's playoff hopes are flickering (they are 3.5 games back in the Wild Card race) San Francisco is trying to catch the Reds and Nationals for top spot in the National League. Both clubs are 7-3 in their last ten games.
Advantage Sports Betting MLB Wednesday Night Predictions
Cincinnati (89-59) gets Chicago (58-90) while St. Louis (78-70) gets Houston (48-100) but neither team as been playing well lately. That said the Cubs and Astros are horrible ball clubs and the Reds and Cardinals are in the thick of the playoff races. We like the money lines at the Bovada.lv sports betting website on all four games. In the end, we'll back the Phillies and Giants with individual bets in the Bovada online sportsbook. Load up and prosper!