Major League Baseball: Trip Aces Top Friday Night Betting Board
A trio of games caught our eye as we were scanning the Friday night Major League Baseball betting board. Three staff aces, David Price from Tampa Bay, Stephen Strasburg from Washington, and Clayton Kershaw from Los Angeles will all toe the rubber during MLB action on July 13, 2013. We like all three pitchers but only one team gets the ASB Best Bet status.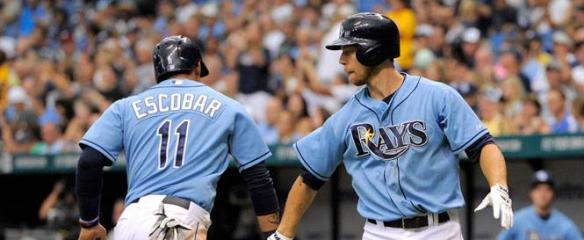 Rays vs. Astros: David Price is right in this contest
Take a career strikeout pitcher like David Price (789 K's in 857.1 innings pitched) and put him up agianst a team that fans more than any other club in the Majors like the Houston Astros (850 strikeouts in 91 games this season) and we see the foundation of a winning wager. Throw in the Rays 12-1 recent record, plus the Astros 3-12 recent run of futility, and it's easy to see why the bodog.eu sportsbook has posted Tampa Bay with -1½ (-155) ATS and -300 S/U prices.
National vs. Marlins: Washington looks for positives at the All-Star break
It's not how you start – but rather how you finish. That will have to be the mantra of the Washington Nationals as their first half of the 2013 MLB schedule as been mediocre at best. Highly touted contenders when the season started, the Nationals (47-45) have been huge underachievers thus far. A three game set with the Miami Marlins (33-57) should provide a boost prior to the All-Star break. The Nats are +1½ (-115) ATS and +118 S/U at Bodog.
Dodgers vs. Rockies: White hot Los Angeles looks to prolong the Colorado slide
Los Angeles, once viewed with very slim playoff hopes, is now just 1.5 games out first in the weak in the NL West thanks to a 13-3 recent run. Dodgers ace LHP Clayton Kershaw (8-5 ERA 1.89) who owns the best ERA in the Majors gets a Colorado club that is on a 7-15 slide to close the first half. RHP Juan Nicasio (4-4 ERA 5.31) returns after making two starts at Triple-A Colorado Springs. Bodog has listed the Dogers as 1½ (-120) ATS and -250 S/U home chalk.
Advantage Sports Betting Best Bet & Free Pick Parlay Predictions
Tampa Bay -1½ (-145) ATS
Rays + Nationals + Dodgers