Major League Baseball Preseason Favorites Making Their Move
As we have discussed in previous posts – don't count out a couple of preseason favorites when it comes to the divisional races in Major League Baseball. Despite getting off to horrendous starts, the Los Angeles Angels in the American League West, along with the Detroit Tigers in the American League Central, have started to make a move towards the top!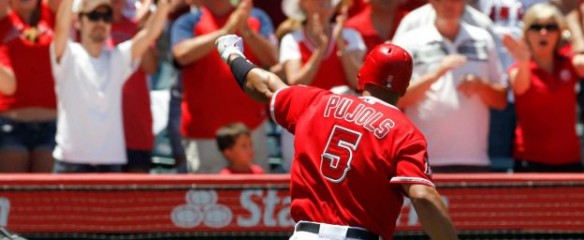 Rangers vs. Angels Battle Heats Up In The AL West
Despite being eight games out first, with an 18-24 record back on May 20, the Los Angeles Angles have made a big move recently. Considered a top favorite to win the AL West, the Angels have won 18 of their last 25 games to get within four games of the division leading Texas Rangers. Both teams have been hot with a 7-3 record over their last ten contests.
It shouldn't come as a surprise that the Angels move towards the top has coincided with prized free agent Albert Pujols heating up over the last 39 games. Pujols had 21 hits, with no home runs and just five RBI, in his first 108 at bats to start the season. In 154 at bats since May 6, the Angels All-Star has 46 hits, with ten home runs and 33 RBI, to lead the Angels revival.
Detroit Tigers Chase Overachieving Chicago White Sox In The AL Central
Prior to the start of the 2012 MLB season, no team was expected to contend for the AL Central other than the Detroit Tigers. That said, the Motown Cats have looked like anything but world-beaters as we creep towards the All-Star break. Both the White Sox, and the Cleveland Indians, have been ahead of Detroit for the majority of the first half of the season.
Back on June 6 Detroit was marred in a slump with a 25-31 record as they were six games back of the White Sox. Twelve days later, the Tigers have closed the gap to three games, as they are 7-3 in their last ten contests. Hated National League foes, the St. Louis Cardinals, are next up as the Tigers host the 34-33 Red Birds for three contests starting on Tuesday.