Major League Baseball: Home Run Derby Betting Lines
With MLB on a break for 2011 All-Star Game, the North American sports wagering landscape is fairly barren until the middle of the week. Tonight we are presenting the Major League Baseball Home Run Derby betting lines. Chicks dig the long ball and sports bettors will tonight as well!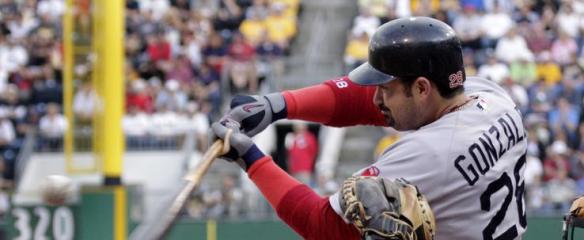 Major League Baseball Home Run Derby Betting Lines: Break out the bats as we kick back and enjoy the 2011 MLB Home Run Derby. Eight of baseballs best will slug it out for three rounds in this rocket launching style event.
Humidity free, air conditioned Chase Field, home of the Arizona Diamondbacks, is the launching pad this star-studded affair on Monday, July 11, 2011 at 8:00 PM ET in Phoenix, Arizona.
Home Run Derby: American League Participants
This is the first year that both leagues were designated a Captain who in turn selected his three teammates for the competition. Boston's David Ortiz (19 HR), who is making his fifth Derby appearance, selected the American League participants. In 2004 Ortiz hit three home runs, he bounced back with 20 in 2005, blasted another 13 in 2006, before launching 32 big flies to capture the 2010 crown.
The MLB 2010 regular season Home Run Champion, Jose Bautista from the Blue Jays, is at it again this season as his 31 dingers leads the majors at the break. This will be the first Derby for Bautista who didn't find his power stroke until last season. No player from Canadian based teams has ever won this event.
Red Sox Adrian Gonzalez (17 HR), who was a bust in his first derby with just two home runs in 2009, and a Derby rookie, Robinson Cano (15 HR) from the Yankees, round out the big four from the AL. We like Gonzo but Cano doesn't have that short porch in Yankee Stadium to take advantage of.
Home Run Derby: National League Participants
Milwaukee Brewers slugger Prince Fielder (22 HR) is the Captain of the National League squad. Fielder participated in his first Derby in 2007 but limped out early with just three home runs. Just like his Daddy Cecil used to do for the Tigers, Prince found his power and smashed 23 home runs to win the 2009 competition. Ken Griffey Jr. is the only player in MLB history to win multiple Derby titles.
St. Louis slugger Matt Holliday (14 HR) makes his third appearance in the HR Derby after he finished with 13 big flies in 2007 and five in last year's event. Derby rookies Matt Kemp (22 HR) from the Dodgers, and Rickie Weeks (17 HR) from the Brewers, complete the National League squad. We don't see enough pop in any of those three bats to challenge here.
Baseball Betting  Lines To Win All-Star Home Run Derby
We were amazed by the vast amount of All-Star Home Run Derby betting lines posted in the sportsbook at the Bodog.com online sports wagering website. With over 40 wagering options, there is something for everyone in tonight's long ball competition.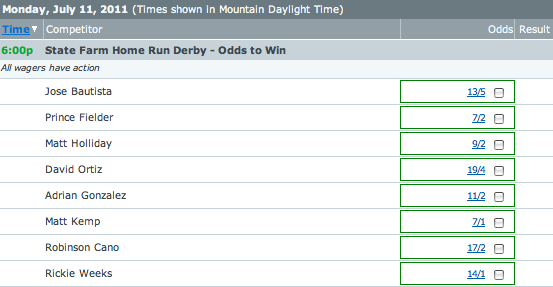 With someone who usually works closely with the ball players during the regular season, tossing out meatballs, this competition is all about getting into a groove.
Former Champion Ken Griffey Jr. who holds the record with three titles, always proved that a sweet swing could win this thing. That being said, Big Papi should surpass Griffey's all time record of 70 blasts as Ortiz currently sits at 68 big flies from his previous four appearances.
Even though there isn't any sweet science to help predict a winner of this feast for the mashers, we have uncovered a couple of stats that say we should back Adrian Gonzalez from the Red Sox tonight.
For his career, Gonzo has 13 round trippers and a .604 slugging percentage at Chase Field. Fielder took a year off, after hitting just three shots in 2007, and then came back to win it in 2009. Gonzalez had two dingers in 2009 but took last year's event off so he should be focused.
If you are feeling lucky, drop a hundred on Gonzalez for a 550 unit return at Bodog!