Major League Baseball: Bet365 Betting Markets Are Bursting
After our handicapping Crew dug deep into the various markets offered at Bet365 our focus is on Major League Baseball today. We have a long criteria list that must be met before a sportsbook gets the Advantage Sports Betting stamp of approval. One of the top criteria is wagering options offered and Bet365 always exceeds our expectations in that category. As it always is, their betting board is packed with unique MLB offers on Sunday, June 30, 2013. The "Team with Highest Scoring Inning" prop betting option is the one that caught our eye today.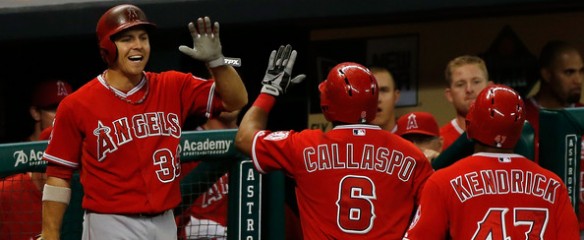 Los Angeles looks for a pay-back sweep of Houston
Although they have played well below expectations during the first half the 2013 MLB season, Los Angeles has won 11 of their last 16 games and five straight. The Angels are looking for a little pay-back after the Astros swept them in a three game series in Anaheim to open the month of June. With a win today, the Halo's can close out June with a sweep of the 'Stros in Houston. LA won the first two match-ups of this three game set by 4-2 and 7-2 final scores.
Angels vs. Astros: Sunday afternoon MLB prop betting action at Bet365
After doing some research, we found that the "Team with Highest Scoring Inning" prop betting option at Bet365 favors Los Angels in this contest today. Over the last two weeks, the Halo's have registered the highest scoring inning in 10 of 13 games – including five contests where they scored five or more runs in one frame. Conversely, over the same time period, the light hitting Houston Astros own a 4-6-2 mark and they have scored five or more runs just once.
Los Angeles @ Houston prop wagering lines and Advantage Sports Betting game day prediction
There are three prices on the "Team with Highest Scoring Inning" prop wagering option at bet365.com. Los Angeles is chalk at EVEN, Houston are pups at +120 and a TIE is paying a +275 price.  Angels starter LHP C.J. Wilson (7-5 ERA 3.88) has a 3.32 ERA over his last three starts while Astros RHP Lucas Harrel (5-8 ERA 4-84) has posted a 6.46 ERA in his last three outings. Give us the Halo's at EVEN to have the highest scoring inning in this contest today.