Los Angeles Kings vs San Jose Sharks NHL I-5 Series Continues
California clutch! Thanks to a 2-1 overtime win, by the San Jose Sharks against the Los Angeles Kings in Game Three of their semifinal playoff game last Saturday, new life has injected into the I-5 Series. Puck drop with this pivotal Western Conference Game Four is slated for 10:00 PM ET, on Tuesday, May 21, 2013, from the HP Pavilion in San Jose, California.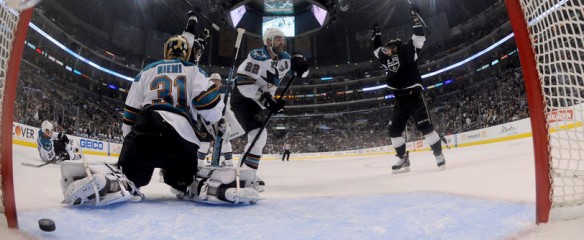 Champs are big road underdogs in Northern California
Feeling a little shark bitten ourselves, after the Senators miracle win on Sunday night, we know how Los Angeles feels as they let a series stranglehold slip away against their northern neighbors. Looking to take a commanding 3-0 semifinal series lead, the Kings let the Sharks off the hook after they lost in OT at the Shark Tank on Saturday. San Jose was definitely the hungrier team as they out shot the Kings by a 40-27 count. The Champs will be better tonight.
Up against a wall at the Shark Tank San Jose bites back at Los Angeles
San Jose has to be feeling a little better about their Stanley Cup chances after narrowing the gap to a 2-1 Kings series lead. Logan Couture scored on the power play, just 1:29 into the first OT period, during Game Three. The Sharks have out shot the Kings by a combined 106-78 count through the first three contests in this series. They better be ready for the motivated LA squad as a win here means the Kings can warp things up in Game Five back down in SoCal.
Advantage Sports Betting Prediction: Load up on the Kings at +1.5 (-280) ATS at Bodog!