Kings vs Predators NHL Western Conference Online Betting Odds
National Hockey League puck betting action takes center stage today as we preview the Nashville Predators vs Los Angeles Kings Western Conference clash. The Kings are starting to show why they are the defending Stanley Cup champions while the Predators have struggled recently. Game time is slated for 10:30 PM ET on Monday, March 4, 2013, from the Staples Center in Los Angeles, California. Expect this one to be a tight checking and low scoring affair.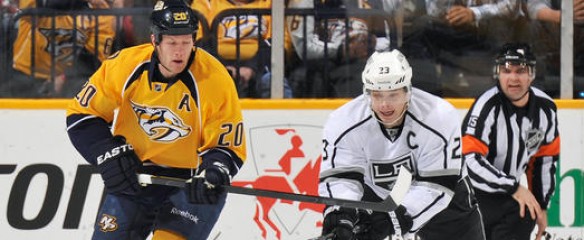 Los Angeles Kings: Champs starting to ramp it up some
After a sluggish start to the 2012-13 National Hockey League season, the defending Stanley Cup Champion Los Angeles Kings (10-7-2) are starting to get on a bit of a roll. Winners of seven of their last nine contests, the Kings are just two points out of a playoff spot – despite playing the fewest games in the Western Conference. Defense is once again front and center for the Champs as they have allowed three or more goals just twice during their winning run.
Nashville Predators: Great defensive play is hampered by a lack of scoring
While the "great defense wins Championships" mantra has rang true many times in the past, a lack of offense certainly makes it tough go. That's the situation in Nashville as the Predators rank fifth in the NHL in goals against but dead last in the goals for category. Playing their third straight game in California, Nashville has scored just two goals in back-to-back loses to the Ducks (5-1) and Sharks (2-1) and now face the Kings normally tough lock-down defense.
Los Angeles vs Nashville Bodog Online Wagering Odds and Advantage Sports Betting Prediction
Checking in at the bodog.ca online sports wagering website we find the Kings as home favorites at -1.5 (+185) ATS and -165 on the money line. Nashville is posted as road underdogs at +1.5 (-235) on the puck line and +135 straight up while the Over/Under is set at five total pucks (O +120 U -150). The Kings were manhandled by the Canucks on Saturday but they are a strong rebound team and we'll back the Champs with the -165 ML at Bodog tonight!