Edmonton vs Winnipeg CFL Thursday Night Football Handicapping
Week 5 of the Canadian Football League opens with the Edmonton Eskimos traveling east to face the Winnipeg Blue Bombers for the second time this season. Kickoff is slated for 8:30 PM ET on Thursday, July 26, 2012, from Canad Inns Stadium in Winnipeg, Manitoba. The Eskimos defense will run roughshod over the Blue Bombers offense and will rule the night in this one!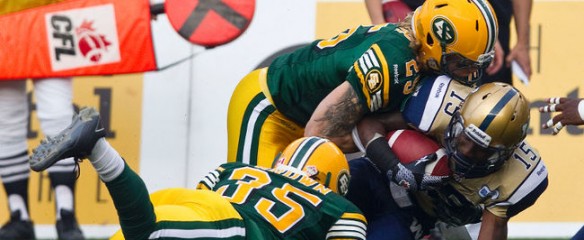 Edmonton Eskimos: Surprise Leaders in West Division
Few predicted that Edmonton would be enjoying so much early season success but, four weeks into the 2012 CFL campaign, the Eskimos are 3-1 and tied for for first place in the West with Saskatchewan. It's all about defense for the Green and Gold as they have allowed a league low 56 points through four games. We get nervous when the Esks go on offense as their 89 total points is last in the CFL – and it's mostly non-offensive scoring like field goals.
Winnipeg Blue Bombers: Grey Cup Contenders to Chumps
Defense was the name of the game for Winnipeg last season – not so much this year. The Blue Bombers rolled into the 99th Grey Cup Championship with the league leaders in sacks at 13 (Odell Willis) and interceptions at 8 (Jovon Johnson) and allowed just 24 points per game. Sitting at 0-4 the Bombers D is nowhere to be found this season as they have allowed a league high 141 points – while posting just 78 points of their own. A quick fix isn't in the cards.
Eskimos vs Blue Bombers Advantage Sports Betting CFL Prediction
Most of the top rated online sportsbooks, recommended here at Advantage Sports Betting, have Edmonton as -2.5 road favorites over Winnipeg with game total hovering around 46 points. That's the case at the Bovada.lv wagering website and we are going to give the points and back the Eskimos over the Blue Bombers in this low scoring CFL handicapping action!