Churchill Downs Hosts 2011 Breeders' Cup Horse Racing Championships
Horse betting enthusiasts rejoice! It's a wonderful weekend in the horse racing world as Churchill Downs hosts the 2011 Breeders Cup Championship. With $8.5 million in purse money up for grabs on Friday, and another $17 million on the line Saturday, it will be an amazing weekend in Kentucky! Who will be this year's Zenyatta, or Alysheba, or Cigar? We can't wait to find out as we get set for the 28th running of the Breeder's Cup Classic!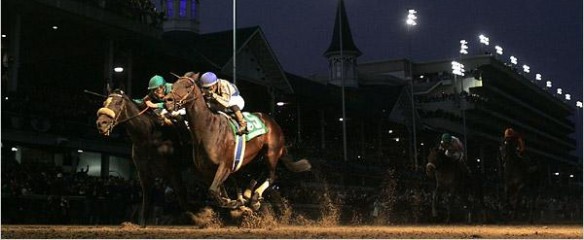 When this thrilling horse racing series began back on Saturday, November 10, 1987, it was created as a season ending Championship for the North American Thoroughbred racing season. It was also hoped that the Breeder's Cup Series would prop up (and clean up) the horse betting industry, which was fledgling at best at the time. Boy Howdy! Did it ever!
Breeder's Cup Thoroughbred Racing – Where Champions Are Crowned
From Day One, when Wild Again stormed to a longshot win ($64.60) in the Cup Classic, at Hollywood Park in Inglewood, California, to last year when Zenyatta lost her bid for an undefeated racing career, the Breeder's Cup Championship racing series has given us a little bit of everything. The horse betting action heads to the gate at Churchill Downs on Friday!
We will actually admit to shedding some tears as we watched the "Big Girl" gamely track down the pack, from 20 lengths backs, only to lose by a head to Blame from the legendary Claiborne Horse Racing Farm in the 2010 Cup Classic. Along with a ton of thrills, and some monster paydays, this is the biggest horse betting weekend of the year!
Breeder's Cup Horse Betting Action Returns To Churchill Downs
For the eighth time, and for back-to-back years, historic Churchill Downs will be the race venue for the 2011 Breeder's Cup action. Last year, a record 114,353 horse betting enthusiasts attended this two day event, at the most famous horse racing park in the world.
In its history, the Breeders' Cup World Championship racing series has paid record winning tickets, has been rocked by a betting scandal, and, more than anything, it has been a savior to the horse racing industry.
For those who can't make the trip, to be trackside at Churchill Downs, we encourage you to get in on the exciting Breeder's Cup horse betting action. Register for a personal sports betting account at one of our highly recommended Racebook wagering websites today!
See you in the Winners Circle!