CFL Week 9 Online Betting Odds: Saskatchewan vs. Edmonton
We turn to the Canadian Football League for today's free pick as the Saskatchewan Roughriders head to Alberta to battle the Edmonton Eskimos. The Green Riders are the only one loss team left in the CFL while the Green & Gold, along with the Winnipeg Blue Bombers have just one win on the season. Kickoff for this CFL West Divison action is slated for 4:00 PM on Saturday, August 24, 2013, from Commonwealth Stadium, in Edmonton, Alberta, Canada.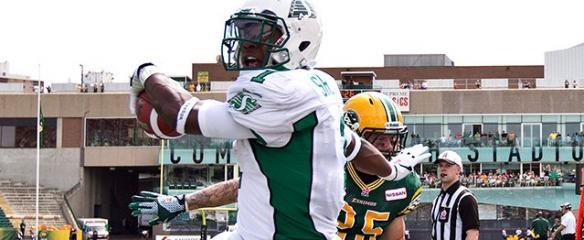 Saskatchewan: Grey Cup 101 hosts top team in the CFL
With the 2013 Grey Cup Championship being played in their own backyard, at Mosaic Stadium at Taylor Field in Regina, the Saskatchewan Roughriders have extra motivation to make it to the big game. Through the first eight weeks of the 2013 CFL season, that motivation appears to be paying off as the Green Riders led the league in points scored at 33.4 points per game. The defense has done it's part as well as they are giving up just 21.4 points per game.
Edmonton Eskimos: Rebuilding year continues in the Alberta Capital
To say it's been a downright ugly CFL season thus far for the Edmonton Eskimos would not be over stating the point. The Eskimos are 1-6 and they are brutal on offense as they have used four different quarterbacks this season. Edmonton is averaging 23 PPG and they have lost five straight contests. Their 36-33 loss in Toronto last weekend may be a building block but with RB Kory Sheets and his league-high 919 yards rolling into town, the Eskimos are in tough here.
Roughrider vs Eskimos Online Wagering Odds & Advantage Sports Betting Game Day Prediction
Quite frankly, we were stunned when we checked out the betting board at the bet365.com wagering website and found the Saskatchewan Roughriders as razor thin chalk at -3.5 (-115) against the spread. We really don't get this line, and we're not sure what the bookmakers are up to, but we'll load up on the Rider Nation here as we lay the -3.5 (115) spread at Bet365!