Bruins vs. Blackhawks: 2013 NHL Stanley Cup Finals Game Five Call
With four games of the 2013 National Hockey League Stanley Cup Finals in the record books, we have seen a little bit of everything in a Cup Final that's already been labeled as a Classic. We expect more of the same tonight when the Chicago Blackhawks host the Boston Bruins for Game 5. Puck drop for this pivotal contest is slated for 8:00 PM ET on Saturday, June 22, 2013, from what will be a raucous United Center in Chicago, Illinois. We are taking the pucks tonight!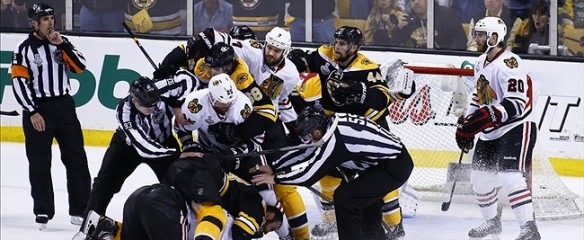 Boston Bruins: Regroup after the one that got away
Boston heads into Chicago knowing that they let one get away during Game 4 on their home pond. Although they never had a lead, the Bruins did manage to push the contest into overtime and had a shot to take acommanding 3-1 series lead. Now they are faced with a best-of-three battle with two of the contests slated for the Windy City. Still, and though no motivation should be required, the Boys from Beantown know that a win tonight means they have a chance to capture the Cup at TD Garden Arena on Monday night. The extra day of rest helped both clubs but Boston players like Jaromir Jagr and Nanthan Horton probably benefited the most.
Chicago Blackhawks: Home ice advantage shifts Hawks to chalk status
Chicago proved why they were the top club in the NHL this season as they manned up and pulled out a 6-5 OT win in Game 4 to gain a split in Boston. The victory means the Blackhawks have the Madness on Madison back in their favor. The Hawks have been stellar on their home pond as they have posted a 10-2 record at the United Center during the NHL postseason. Having the last line change is important for Chicago but goaltender Corey Crawford needs to be better after he allowed five goals in Game 4 – on just 33 shots. Boston snipers will continue to aim glove-side as Crawford looks like he's wearing a brick on his left hand.
Blackhawks vs. Bruins Game 5 Wagering Prices & Advantage Sports Betting Game Day Call
Home town advantage is always huge when it comes to bookmakers setting their betting odds and Game 5 of the NHL Stanley Cup Finals is no different. Bodog.ca has posted Chicago as home favorites at -1.5 (-200) on the puck line and -150 straight up. Boston heads into the Madhouse on Madison as road pups at +1.5 (-240) ATS and +130 on the money line while the Over/Under is set at 5 total goals (O +130 U -150). We took Boston and scooped the pucks during the first two contests in Chicago and we are going to follow that pattern again tonight. Load up on the Bruins and the +1.5 (-240) puck line at the Bodog online sportsbook!