Broncos vs Chargers NFL Week 6 Monday Night Free Pick
A missed field goal, or a blocked punt – take your choice, cost us on Thursday as the Titans topped the Steelers to open the Week 6 NFL betting action. Our Sunday Best Bet cashed in when the Dolphins hung on to sneak past the Rams. Tonight we handicap the Monday Night Football clash between the Denver Broncos and San Diego Chargers. Kick off it slated for 8:30 PM ET on October 15, 2012, from Qualcomm Stadium in San Diego, CA. Back the Broncos!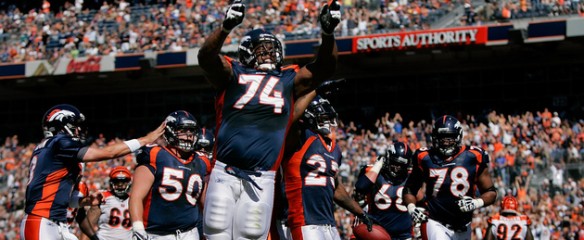 Denver Broncos: Tough schedule continues in Week 6
While every week seems to be a tough week – for every NFL team, the Denver Broncos and QB Peyton Manning have been grinding it out since Week One. Their five previous opponents have a combined 17-11 record – that includes a solid 3-3 Patriots squad. It doesn't get any easier tonight as the Broncos (2-3) battle QB Philip Rivers & Co. Despite being on the road for this contest, we like the Boys from Mile High to get the job done tonight.
San Diego Chargers: Lightning Bolts facing a tough test at home tonight
One has to look at the San Diego Chargers with a degree of skepticism as they aren't as good as their AFC West leading 3-2 record reads. Their three wins have come against teams with a combined 4-13 record. On the other side of the coin the Bolts have been spanked 27-3 by the Atlanta Falcons at home, and 31-24 by New Orleans Saints on the road. Denver's loss to the Falcons was a more respectable 27-21 and came back in Week 2 in Atlanta.
Denver vs. San Diego Advantage Sports NFL Week 6 Monday Night Prediction
Online bookmakers are hoping for a "juicy" Week 6 MNF betting pattern for the Broncos vs. Chargers clash. That's certainly the case at the William Hill online betting destination as their Money Line is split evenly at -110. The Chargers are posted with a -1 (EVEN) point spread and the Broncos are +1 (-120) pups. As long as they get equal action on all sides, which they probably will, they'll be happy up on Wood Green in London. Put us on the side of the visitors as we back the Broncos over the Bolts with the -110 ML at William Hill.