Breaking Baseball News: Prince Heads To Papa's Old Stomping Grounds
Former Milwaukee Brewers first baseman Prince Fielder has agreed to multi year, multi million dollar contract, and will play for Detroit in 2012 and probably the rest of his career. Prince joins the Tigers, who his Dad Cecil "Big Daddy" Fielder played for from 1990–1996.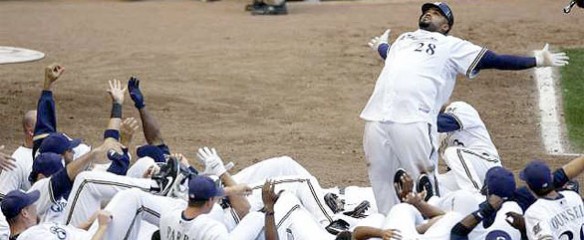 Prince Fielder Heads Back To Detroit – No Longer As Just Cecils' Son
Fans in Detroit got a late Christmas present today as Prince Fielder, backed by his agent Scott Boras, signed a reported 9-year, $214 million contract with the Tigers. They certainly won't be celebrating in Milwaukee as Fielder was loved and adored by Brewer fans. Boras is the also the agent for ultra rich baseball stars Alex Rodriguez and Carlos Beltrán.
Not even on the radar as little as a week ago , Detroit beat out teams like the Texas Rangers and Washington Nationals to hook the new Prince of Motown. Fielder was the last top free agent remaining in the 2012 offseason crop. Detroit made their move after they learned that designated masher, Victor Martinez, won't be available for the 2012 MLB season because of a torn knee ligament. One teams loss, is another teams gain – as Brewer fans morn.
Motor City Mashers Cecil and Prince Fielder: Like Father – Like Son
With his monster contract in tow, Prince heads back to Detroit where he grew up around the Tigers while his Dad Cecil was smashing 245 of his 319 career home runs. This is only the fourth $200 million plus contract in Major League Baseball history. Alex Rodriguez's $275 million with the Yankees, and his previous $252 million deal with the Rangers, along with the Angeles recent  $240 million contract inked to slugger Albert Pujols, are the previous three.
Cecil and Prince Fielder are the only Father and Son combination to have over 50 home runs in a MLB season. Cecil (nicknamed Big Daddy) hit 51 big flies for Detroit in 1990 while Prince was shagging fly balls during batting practice and acting as a bat boy. Prince hit 50 homers for the Brew Crew during the 2007 MLB season and has 230 career round trippers.
Expect Fielder and power hitter Miguel Cabrera to split time between first base and the designated hitter role – as well as hit back-to-back in the already potent Tigers batting order.
Now could be the time to make a future bet on Detroit at +1500 to the win the 2012 MLB World Series at one of our top rated online sportsbooks.
Celebrate Detroit – the 2012 Major League Baseball season is looking Prince like indeed!