Bengals vs Eagles NFL Week 15 Odds and Game Total Selection
Riding an investment streak that's reeled off five straight winners, we look to keep the momentum rolling as we research and preview the National Football League Week 15 Thursday Night offering. Teams at opposite ends of the playoff scenario spectrum clash as the Cincinnati Bengals battle the Philadelphia Eagles in prime time NFL action. The pigskin flies at 8:20 PM ET on Thursday, December 13, 2012, from Lincoln Financial Field in Philadelphia, PA.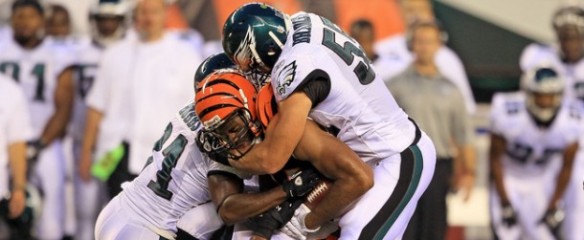 Cincinnati Bengals: One game out of AFC playoff race
After suffering a last second home loss to the Cowboys in Week 14, Cincinnati had their playoff hopes refueled as Baltimore and Pittsburgh both lost as well. With games against the Steelers and Ravens remaining on their 2012 NFL schedule, the Bengals can't afford to look past tonight's road game against the Eagles. Cincinnati controls their own destiny and tonight's contest is a key piece in the AFC North playoff puzzle. If the Bengals win out – they make the playoffs. A loss tonight and they would have to win and get help to make the postseason party.
Philadelphia Eagles: Bench players litter the lineup on offense
Are you supposed to give credit to a team that was expected to have success, but failed miserably with their starters and are now making a minor comeback with a cast of bench players? That's the scenario in the City of Brotherly Love as the Eagles have been feeble at best this season. Key injuries have forced the likes of QB Nick Foles, RB Bryce Brown, WR Riley Copper and TE Clay Harbor to step up and, for the most part, they have. Philly beat the Buccaneers 23-21 with a TD on the last play of the game last weekend.
Advantage Sports Betting Eagles vs Bengals Over/Under Odds and Prediction
Before you put too much stock in the Eagles win over the Bucs, we caution that the Tampa Bay pass defense makes everyone look like Joe Montana. QB Foles is up against it here as the Bengals lead the league with 42 sacks and the Eagles O-Line is horrible as they have given up 41 sacks – third most in the NFL. Checking in at the bodog.ca online sportsbook we find the Over/Under posted at 45.5 (-105 O -115 U) points – it's another tough game total to handicap!
These teams have been in contests that have reached 46 total points just 11 times in 26 games played. The Thursday Night contests have pushed past this number just three times all season. Aware that there could be some Philadelphia follies in this contest, along with some garbage time scoring, we were tempted by the OVER. However, we'll plug our nose and back the UNDER 45.5 points with a 5% bankroll investment on the Bovada Game Total.