American Football Conference Divisional Playoff News
Today we bring you NFL 2011 Divisional Playoff news featuring the New England Patriots vs. Denver Broncos AFC battle. If the religious movement as made it into the NFL New York offices, bet the farm on the Broncos. We see the Patriots pummeling the Broncos here.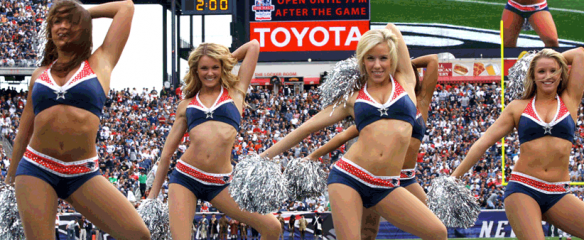 Broncos vs. Patriots: Playoff News Game Day Update
Bettors beware – the Broncos are this years Seahawks – one and done – as Billy Ball, along with Brady & Co. will roll over the Mile High Messiah in this AFC Divisional Playoff battle. As we see it, there's no way the Broncos will win this game and no way it should be close.
In their game last weekend the Broncos beat a Steelers team that was battered and bruised and not that good to begin with. This Patriots team is way better than the Boys from Lead Town. All the action gets going with an 8:00 PM ET kickoff on Saturday, January 14, 2012, from Gillette Stadium in Foxboro, Massachusetts.
Tim Tebow Time Is Up – Tom Brady Triumphs With The Patroits
Heading into last weeks game QB Tim Tebow had the 34th passer rating, in a league with 32 teams, and that list didn't include IR QB's like Jay Cutler and Matt Schaub. The Steelers best D-Back couldn't go because of the Mile High air, and they lost another three guys in-game. Ben Roethisberger is a goat who was hobbled,  and there was no RB Rashard Mendenhall. In the end, it all added up to no chance for the Steelers and an easy day for the Broncos.
New England has a far better offense that can more the counter a decent, though not spectacular, Broncos defense. QB Tom Brady is also the vastly superior quarterback on the field. Wide receiver Wes Welker, along with tight ends Ron Gronkowski and Aaron Hernandez are the best receivers in the game. New England pounded the Broncos 41-23 back in Week 15 and you can expect more of the same in this one. Enjoy!