AFC Playoff Race: NFL 2011 Predicted Finish
While the NFC playoff path looks relatively clear, the picture is less focused in the American Football Conference as ten teams still have a chance to make the 2011 AFC postseason party.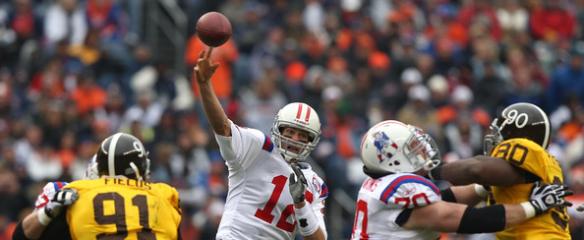 AFC Playoff Positions: Leaders Remain Unchanged
With wins during the NFL Week 12 action, the Texans, Ravens, Patriots, and Raiders all retained their overall divisions leads. Other than Oakland, who have a 7-5 record, each of these teams along with the Steelers, all moved to 8-3 and appear well on their way to a 2011 playoff berth.
That being said, three of those four teams are not without issues, with some being more serious than others. Houston is down to their third string quarterback and may try to lure Brett Favre out of retirement.
New England is still giving up a ton of yards on defense but should have the AFC East title sewn up by the end of Week 14. Getting home field advantage, or at least a first round playoff bye to get healthy, is the Patriots primary focus now.
AFC West – AFC North: Two Team Races Remain
Oakland is trying to hold off a pesky QB Tim Tebow led Broncos squad as they have a one game lead in the AFC West. A Week 16 win on the road against the Chiefs, or a Week 17 home win over the Chargers, should be how the Raiders win the West.
Baltimore holds the AFC East tie-breaker over the Steelers, along with the most complete team in the AFC. Pittsburgh didn't have a championship look against the Chiefs in Week 12.
The Ravens play the Colts and Chargers in Weeks 14 and 15. That should win them the AFC East. We also see them taking the second overall spot in the AFC – behind the Patriots.
AFC 2011 NFL Playoff Position: Predicted Order Of Finish
New England Patriots
Baltimore Ravens
Oakland Raiders
Houston Texans
Pittsburgh Steelers
Cincinnati Bengals