2010 NFL Week 2 Free Picks: Oakland, Minnesota, Arizona/Atlanta Under 44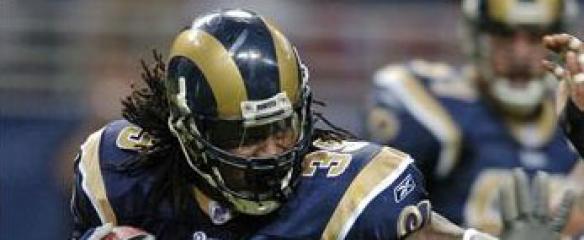 Rams @ Raiders – Dolphins @ Vikings – Cardinals @ Falcons
It's Week Two of the 2010 NFL season and world-class online sportsbooks are loaded with betting options galore. Week One was an adventure to say the least as it was loaded with fantastic finishes, blowout games and more than a couple of upsets.
How about the Kansas Chiefs and their win at home in Arrowhead Stadium over division rival San Diego Charges? The Chiefs are loaded with hungry rookies and they will be an exciting team to watch moving forward.
Did the no touchdown call against Calvin Johnson and Lions help you or hurt you? The Jets talked the talk but then failed to walk the walk as they couldn't manage to score touchdown against the Ravens. Are the Redskins, Texans and Seahawks the real deal or just mirages?
Week Two could shed some light on who is a contender and who is a pretender so lets take a look at a few wagering options that caught our eye.
Oakland Raiders -3.5 at Bodog.com
Minnesota Vikings -155 M/L at BetUs.com
Arizona Cardinals @ Atlanta Falcons – Under 43 PTS at Sportsbook.com
Oakland Raiders – 3.5 vs. St. Louis Rams
The Rams and Raiders both opened Week One with a loss as Oakland was thumped by the Titans 38-13 on the road and St. Louis was defeated by the Cardinals 17-13 in their home opener.
Titans all world running back was a one man wrecking crew against the Raiders as he had 150 total yards and scored two touchdowns. The Rams don't have anyone the caliber of Johnson as their lead back Steven Jackson is dealing with a minor knee injury and won't be 100% for this contest.
The Raiders were decent against the pass in Week One as Vince Young was limited to just 154 pass yards. Rams rookie QB Sam Bradford attempted 55 passes in the Rams loss as he threw three INT to just one TD. The Black Hole in Oakland is a hostile environment and a tough place for a rookie to make his first pro start on the road.
QB Jason Campbell seemed to settle in some during the second half of his first game as a Raider and being at home should be a boast to his confidence. The Raiders should also have RB Michael Bush back in the fold and that will give them a nice one –two punch as he teams up with RB Darren McFadden who was a stud in Week One.
Let's face it, neither of these teams are world-beaters but we will give the 3.5 points posted at Bodog.com and wager $2 on the Raiders.
Minnesota Vikings -155  M/L vs. Miami Dolphins
The Vikings kicked off Week One of the 2010 NFL season with 14-9 road loss on Thursday Night Football to the Super Bowl Champion New Orleans Saints. The Dolphins also opened on the road in Orchard Park, NY and squeaked out a 15-10 win over the Buffalo Bills.
Vikings QB Brett Favre was very rusty in his first game after he spent the entire preseason waffling on his retirement. The extra week of practice should be just what the doctor ordered for Favre and company. The Dolphins displayed a stout run defense against Buffalo but they weren't up against the likes of Vikings Pro Bowl RB Adrian Peterson. By his standards, "Purple Jesus" had a down week in Week One and he will rebound against the Dolphins.
Miami was far from impressive in defeating the Bills who are one of the worst teams in the NFL. QB Chad Henne was mediocre at best with 182 passing yards and no touchdowns against Buffalo despite having a favorite new weapon in WR Brandon Marshall. The Dolphins used a running back by committee system with Ronnie Brown and Ricky Williams to gain 126 rushing yards but the Bills ranked 30th in run defense in 2009 and didn't get any better in the off season.
One of the most difficult challenges an NFL team can face is playing back-to-back games on the road – especially to open the season. For a second straight week Miami will travel from the deep south to the upper north and that is not a good thing. The Vikings have had ten days off to rest up and right the ship so we will gladly take the -155 money line being offered in the BetUs.com sportsbook with a $5 wager.
Arizona Cardinals @ Atlanta Falcons – Under 43 Points
The Cardinals opened with a win but it was hardly convincing as they beat the lowly Rams 17-13 in St. Louis. The Falcons traveled northeast to Pittsburgh and were stymied 15-9 by the Steelers.
So let's see; neither Atlanta or Arizona were impressive on offence as they scored a combined 24 points but both played decent defense in giving up a combined 28 points. Those certainly aren't earth-shattering numbers on offense and we don't see much changing in Week two. The Falcons will be better while the Cardinals are still loaded with questions and are facing a much tougher opponent this weekend.
The Cardinals are also on the back half of the dreaded double road trip after their game in the Midwest last weekend. The Falcons have been road warriors of late having played their last two preseason as well as Week One away from the Georgia Dome.
The Over/Under, set at 43 points by the experts at Sportsbook.com, seems to be just a tad high as we see the Falcons coming away with a 21-17 home win and we'll back it up with a $3 wager.