Vikings and Chiefs Fight for First Win
As the 2011 NFL season kicked-off, Minnesota and Kansas City weren't on the list of Super Bowl contenders. With how they've produced so far, they are battling for the No. 1 draft pick in 2012. In Week Four NFL action, one of these teams will finally secure their first win.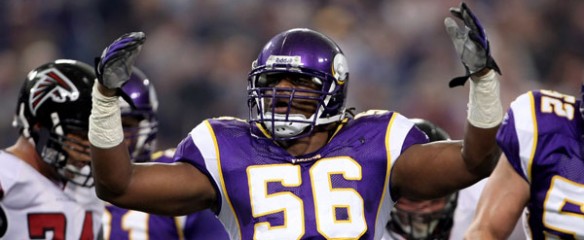 Heading into Arrowhead Stadium this Sunday afternoon to face another winless team in the Chiefs, Minnesota appears to have a slight edge. If Adrian Peterson can see more of the ball, the Vikes should match the decent running stats of Kansas City and get themselves in the win column.
This Week Four NFL cross-conference action starts at 1:00 PM ET on Sunday, October 2, 2011, from the 75,000 seat Arrowhead Stadium in Kansas City, MO.
Minnesota Vikings – Halftime plague persists
In every game so far, The Vikes have blown a double-digit lead. They impress in the first half – gaining substantial leads – only to routinely blow it in the second half. Having converted just one third down in the second half for three consecutive games is a big issue for head coach Leslie Frazier that needs sorted out immediately.
Coming off a horrible defeat to Detroit in which they managed just three points in the second half after securing a 20-point lead after two quarters, the biggest hindrance appears to be psychology, and the defense allowing 300 yards per game on average.
Chief's Chance for Turnaround is Now
Averaging 10 points-per game in the preseason, it was clear offense would be the issue at Arrowhead. Statistics from the first three weeks confirm that belief – the Chiefs have so far been outscored 109-27. And not only does the attacking firepower lack prowess but the defensive corps has conceded a league-worst 36.3 points per game.
A narrow 3-point to defeat to San Diego last week may have sparked some enthusiasm in the locker room, but Kansas City will only take comfort with a tick in the win column.