Mouthwatering NFL Props
At first glance, it might be overwhelming sifting through the NFL regular season prop bets. There's a ton, ranging from division winners to league leaders in a certain statistic. But hey, that's why we're here. We've picked out five of the best wagers Topbet is currently offering:
Most Receiving Yards
No player has caught more passes in their first three seasons than Beckham. Those targets won't be stopping in year four. Not even close.
The Giants had the fourth-worst running attack in 2016 and it won't be any better this season. Their running-back-by-committee — featuring subpar runners Paul Perkins, Orleans Darkwa, and rookie Wayne Gallman — isn't scaring anyone.
That means a heavy dose of OBJ is on the horizon. New York also added grizzled veteran Brandon Marshall over the offseason. That should take some attention off Beckham and open the door for copious amounts of receiving yards.
Pick: Odell Beckham Jr. (+650)
NFC South Division Winner
Many are high on the Buccaneers to take the next step this year, except sportsbooks. Topbet and most other books have Tampa Bay as a distant third to Atlanta and Carolina as the NFC South champions. We're not as convinced.
Now in year three, it's boom or bust for Jameis Winston. That's enough pressure to wilt most quarterbacks, but not Winston. He's had the cameras on him since he was 19 years old (including this offseason during HBO's Hard Knocks) and he thrives in pressure-cooker situations.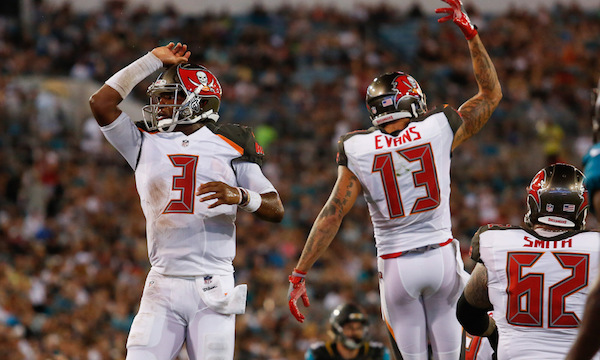 Taking some heat off Winston will be a loaded arsenal of weapons. Speedster DeSean Jackson joins freak-of-nature Mike Evans for a killer one-two punch. That trio will propel Tampa Bay to its first division title in a decade.
Pick: Tampa Bay (+275)
Last Team to Win a Game
Unlike the NBA, "tanking" was unheard of in the NFL. Not anymore. Franchises such as the Browns, Bills, and Jets are stockpiling picks at the expense of good players — a clear sign they're already thinking about 2018.
Out of the three, New York appears to be in the worst position thanks to their quarterback situation, where journeyman Josh McCown will get the nod. Buffalo's Tyrod Taylor is a clear upgrade and Cleveland is fresh off dumping McCown themselves.
When McCown inevitably gets hurt — like he always does — the Jets will have to turn to Bryce Petty. Yikes. It's going to be a rough go in New York.
Pick: Jets (+625)
NFL Offensive Rookie of the Year
Excuse us while we gush over the ninth-overall pick Christian McCaffrey. With breakneck speed and deceptive power, this guy has superstar written all over him.
McCaffrey will be a focal point of Carolina's offense this season. Whether it's taking direct snaps out of the Wildcat formation, catching Cam Newton dump passes, or juking defenders — McCaffrey can do it all.
The advantage McCaffrey will have in this prop bet over other talented rookies — Leonard Fournette, Joe Mixon, or Dalvin Cook — is Newton. The other three will be marred by iffy quarterback play, whereas McCaffrey will thrive with fellow playmaker Newton.
Pick: Christian McCaffrey (+500)
Super Bowl Winner
The NFL is a quarterback-driven league, meaning the Super Bowl favorites have to be New England and Green Bay considering Tom Brady and Aaron Rodgers are the runaway best throwers in the league.
This prop bet is a toss-up between the two, but we're favoring the Packers just slightly. Besides them being a lot more valuable of a bet (Patriots are +325 to repeat as champions), Rodgers will be even better this season as scary as that sounds. Green Bay's addition of tight end Martellus Bennett will add another layer to the Rodgers-led attack. Watch out!
Pick: Green Bay (+1000)
We're now under a month away from what may turn out to be one of the biggest sporting events of our lifetime as Floyd Mayweather and Conor McGregor collide.
Call the fight what you want — a circus, a money-grab, or even a competitive battle — but either way, it's a must-bet event. You can literally sift through prop bets endlessly, however, we'll save you the time and offer you the four best bets to wager on: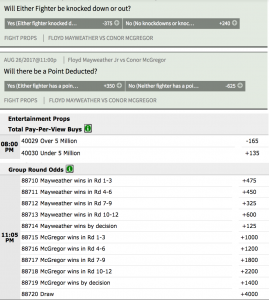 Will there be a point deducted?
You can cut the tension between these two with a knife. Both have a strong case for greatest of all-time in their respective sport, so naturally, there's going to be a clash of egos. That bitterness could very well spill over in the actual fight.
We're not worried about Mayweather losing his cool — he's as calm as they come in the squared circle. But we can't say the same about McGregor.
The thing about the Irishman is he's such a wildcard. He's never boxed before, so what if his natural instincts flare and he throws a kick? What happens when Mayweather frustrates him with untouchable defense like he's done to boxers throughout his career? McGregor is a loose cannon waiting to go off.
Pick: Yes (+350)
Will either fighter be knocked down?
"I'm going to knock him out inside four rounds, mark my words," McGregor has famously quipped in the buildup to this fight.
He says it with such conviction that you really believe him, too. But that's nothing more than McGregor's promotion expertise at play. For all of his fighting skills, McGregor's mouth has made him the biggest box office draw in MMA history.
While McGregor does have knockout power — he's won all but three of his MMA fights via ref stoppage — he'll struggle to land those haymakers against the slippery Mayweather, whose defensive abilities are second to none.
As for Mayweather dropping McGregor, we don't see it happening either. He's played it safe his entire career and isn't about to go for a knockout blow at 40 years old, no matter how novice McGregor is. Mayweather will stick to the script and attempt to win on the judges' scorecard.
Pick: No (+240)
Over/under 5 million pay-per-view buys?
The all-time pay-per-view record is 4.6 million buys set by Mayweather and Manny Pacquiao two years ago. That fight had years worth of build up and many actually believed Pacquiao could defeat Mayweather.
Neither is the case in this battle. But even then, you can't help but feel McGregor's star power. He brings a different fan base — one inside the MMA world — and swagger to him. Does anyone remember the press conferences between Pacquiao and Mayweather? We sure don't. But the war of words we saw during McGregor and Mayweather's four-city world tour made headlines across the globe.
August 26th is about to be a day where the world will stand still and come together to watch this historic fight.
Pick: Over (-165)
Group round odds?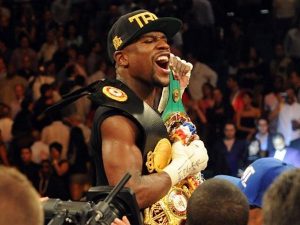 You got to give it to McGregor. He's really convinced the public that his size, youth, and unorthodox style give him an advantage over an undefeated boxer.
But really think about that. Mayweather has dominated his sport for two decades. His victories read like a whose-who of boxing greats — including Oscar De La Hoya, Shane Mosley, Canelo Alvarez, and more. You really think a guy with zero experience in that sport can outbox one of the greatest ever?
This will be an easy Mayweather triumph, and one by decision. Power has never been Mayweather's calling card and it's not about to be in his 50th fight.
Pick: Mayweather wins by decision (+125)