Fancy splashing out $100 on the "big fight?"
Expect your wallet to take a hit when Conor McGregor and Floyd Mayweather — after years of anticipation and back-and-forth bantering — finally meet in the squared circle. The pay-per-view will run $100 a pop and movie theaters will broadcast the bout, charging about $40.
As pricey as that is, this is one of the few events that transcends sports and culture. In the same likes as the Super Bowl or World Cup, all eyes will be watching this one closely — and that includes non-sports fans.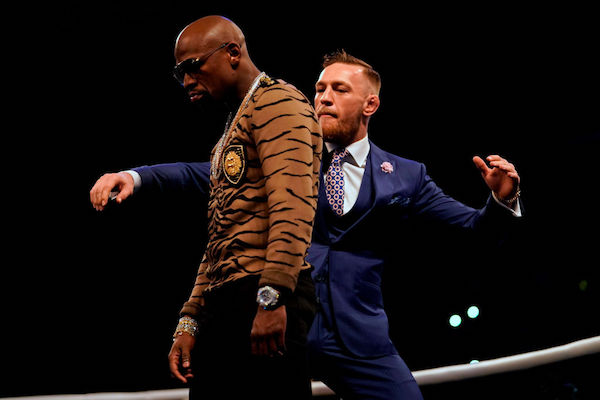 Mayweather has been in the public limelight for more than 20 years — longer than any active athlete — and has broken his own PPV records multiple times over. McGregor is a budding superstar with legions of fans dotted across the globe. That juxtaposition translates into a must-see spectacle.
Plus, this crossover battle is almost unheard of. It's been over four decades since boxing legend Muhamed Ali squared off with Japanese professional wrestler Antonio Inoki in a shoot fight. You must have a semblance of curiosity to see what transpires when the best pound-for-pound UFC fighter meets the greatest boxer of all time, right?
Use this clash as an excuse to throw a giant bash with friends. Or watch so you aren't left out of water cooler talk at work. Either way, this is a where-were-you-when moment you simply can't miss.
To make up for the dent in your wallet from buying the fight, wagering on the bout is a no-brainer. But not all bets are created equal.
There's almost zero incnetive in betting Mayweather straight up to win, unless you have a copious amount of cash readily available. His odds of winning are simply too high. For instance, he's -610 on BetOnline. A wager in his favor here is a high-risk, low-reward proposition, which should be avoided at all costs.
The opposite applies for McGregor. Now, we're not saying he's going to win, which would qualify as the greatest upset in sports history. However, at +460 on BetOnline, it's very tempting.
McGregor has spent his whole life proving naysayers dead wrong. Here's a guy that is four years removed from collecting a welfare check. Few gave him a chance against Jose Aldo, arguably the best UFC featherweight ever, and McGregor beat him in 13 seconds. He was written off in a rematch against the bigger Nate Diaz, but McGregor avenged that loss in a gutsy bloodbath.
Pulling off a victory over the undefeated Mayweather, with no boxing experience, would be his biggest shocker yet. But in a sport where anything can happen, throwing a few bucks his direction could result in a huge payoff — especially if you predict what round McGregor would win. He's already guaranteed he'll stop Mayweather within the first four rounds. Odds for that happening range between +3300 to +2800 on BetOnline and it wouldn't be the first time McGregor wills something into existence.
Admittedly, those are all big ifs. That's why we suggest wagering a small portion on it. Most of your money should go toward the Mayweather wins via decision prop bet, which is going for +175 on BetOnline.
Mayweather, being the great promoter he is, is selling that he's going for the knockout against McGregor. Trust us, that's not going to happen.
McGregor has an iron jaw. He's never lost via stoppage and a 40-year-old Mayweather certainly isn't going to be the first. Mayweather will stick to the same script that's gotten him to 49-0 — stay on the defensive and jab his way to victory on the scorecards — and subsequently, earn back what you paid for just to watch this must-watch event.
Expect an all-new pay-per-view record for the big bout
The common denominator in the largest-selling pay per views of all time is Floyd Mayweather. The man they called "Money" has broken the two million buys mark on three separate occasions — against Oscar De La Hoya, Canelo Alvarez, and Manny Pacquiao. The latter topped out at an eye-popping 4.6 million buys, which many believed was the glass ceiling for PPV sales.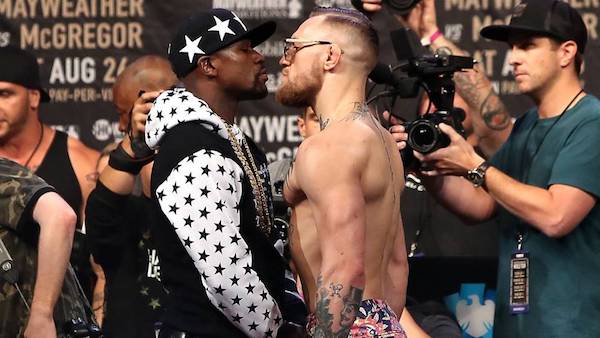 However, that ceiling might be shattered come August 26 as Mayweather, the biggest fighting draw of the past decade, meets Conor McGregor, the UFC cash cow.
Oddmakers appear to be convinced the previous mark will go down. TopBet has it at a staggering -600 to surpass 4.6 million. Heck, on Bovada and BetOnline, the over/under is at a whopping five million. Bovada's over sits at -230, while BetOnline is more modest with -165.
You can't downplay both fighers' star power. These two are two of the greatest showmen ever. But in spite of that, breaking five million is no shoe-in.
The PPV will run $100 a pop, unless you're stuck in a time warp  and opt for the "standard definition" version at $90. Not a cheap ticket by any means. The unprecedented spectacle will also be broadcasted on movie theaters around the country at a $40 buy-in, which could cut into the buy rate.
Even more worrisome, thousands of tickets remain available at the T-Mobile Arena for the actual fight. By comparison, Mayweather-Pacquiao sold out almost instantaneously and Canelo-Gennady Golovkin — which takes place just three weeks afterward — is also a sellout. Could this be a sign of things to come? Maybe, but we're inclined to say no.
Naysayers believe true fighting purists won't buy in because McGregor has little to no chance of defeating Mayweather, unlike Pacquiao-Mayweather, which most believed was a true toss up. However, McGregor has turned many doubters into believers — a true testament to his promoting skills.
Maybe it's McGregor's youth and size advantage. Or the conviction in his voice when he says, "I'm going to knock him out in under four rounds. Mark my words." But all that is making McGregor roughly a +500 bet to pull off the upset. Those are better odds for all but three of Mayweather's last ten opponents.
Already, the buildup to this matchup blows Mayweather-Pacquiao out of the water. The tension was lacking in "The Fight of the Century" as they billed the latter bout. Not this one. Mayweather and McGregor — two proven egomaniacs — hate each other, and that was reflected in the four-city world tour they did where insults, cussing, and outlandish behavior was the norm.
And unlike Mayweather-Pacquiao which drew from the same boxing audience, McGregor brings an entire new fan base with him. If you watched the press conferences, you know McGregor was the overwhelming fan favorite — a clear-cut sign that MMA diehards are paying close attention to this fight.
That's why we believe ticket sales have sputtered, too. MMA fans aren't used to forking over top dollar for tickets, unlike the old-timers that follow boxing more closely. However, a $100 PPV price point is certainly within limits for MMA purists.
Furthermore, McGregor brings that international flavor with him. He's a megastar in his native Europe, as well as Australia, Brazil, and similar fight-crazy countries. Those markets were mostly blind spots during Mayweather-Pacquiao.
August 26 is going to be a can't miss cultural event, rivaled only by the Super Bowl and World Cup. The audience will go beyond the usual fight and sports fans, which means you can expect a new all-time PPV record. Matter of fact, over five million buys is more than reasonable.
The betting options for the upcoming Conor McGregor-Floyd Mayweather superfight is like an all-you-can -eat buffet — it just doesn't end. Ever. With so many different lines, various prop bets, and a slew of bookies, this might be a betting overload for some. But that's why we're here. Here's your guide to navigating through all the noise and increasing your chances at a payout come August 26.
Which sports book to use?
Between Topbet, BetOnline, and Bovada — all three books have different lines placed on this fight. And we're not talking a small difference either, it's as high as an 115-point swing.  The answer here lies in which fighter you think will win.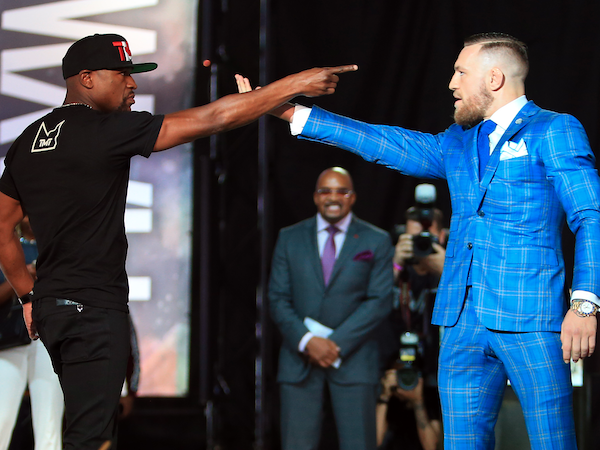 If you lean toward Mayweather, then Bovada is your go-to spot. He's a -550 favorite there, far better than his -665 chances on BetOnline. Steep odds on both books regardless, but Bovada offers more bang for your buck.
Now that flips if you're convinced McGregor can stun the world. He's +490 to win on BetOnline — a sizable improvement from +375 on Bovada.
It's going to very well take a miracle for McGregor to end Mayweather's unbeaten streak. But boxing is a sport in which the outcome can be determined in a split second. That alone should give you a reason to take that +490 payout for a McGregor victory. It's just too much value to pass up.
Best prop bets?
There's two prop bets we love. First, the exact method of victory deserves attention. There are only two ways this fight will end — Mayweather by decision or McGregor via knockout.
No matter how novice McGregor is in the ring, Mayweather won't go for the knockout. It's never been his calling card, little less at 40 years of age. Bovada offers you the best payout with +230 odds for a Mayweather decision.
In that same token, McGregor and his zero boxing experience isn't going to outpoint an all-time great. McGregor needs one opening to land his crushing blow and win. If that happens, BetOnline's +575 is your best bet.
The other prop bet is the amount of pay-per-view buys this spectacle will generate. BetOnline has the over/under at five million — -165 for the over and +135 for the under. Jump on that over.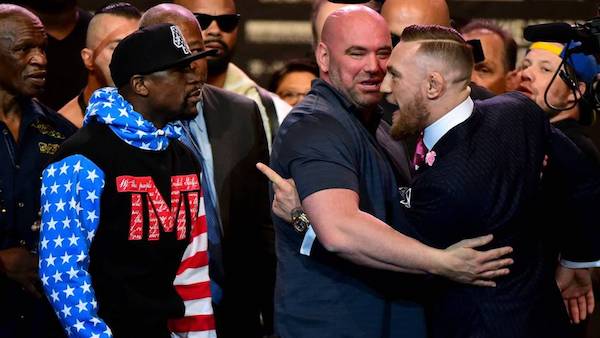 August 26 may very well end up as the biggest fight of our lifetime. In Mayweather, you're getting a fighter that's been in the public limelight a whopping 20 years and has sold the most pay-per-views in history by a longshot. In McGregor, you're getting the hottest combat fighter today with a huge international presence. That's a recipe for the biggest blockbuster PPV event of all time.
It helps that the build up to the bout has been heated and headline-grabbing. The four-city world tour was a complete circus, but for better or worse, that draws eyeballs. The war of words between two of the greatest trash talkers ever has the anticipation for August 26 at a fever pitch.
Straight bet or parlay?
Again, this is a two-sided answer. If you're of the belief that Mayweather wins, then a parlay is an absolute necessity. His odds are too high to earn a big pay day if you're simply betting him straight up. You'll need to combine two or three different bets to earn a big return. Parlay a Mayweather win, decision as the exact outcome, and over five million pay-per-view buys to really reap the rewards.
The opposite applies to McGregor. Every wager that results in a McGregor win at least triples your investment. Now, if you want to get greedy, then by all means parlay McGregor. If it hits, that parlay would be an all-time great heist in the betting world.
We're now under a month away from what may turn out to be one of the biggest sporting events of our lifetime as Floyd Mayweather and Conor McGregor collide.
Call the fight what you want — a circus, a money-grab, or even a competitive battle — but either way, it's a must-bet event. You can literally sift through prop bets endlessly, however, we'll save you the time and offer you the four best bets to wager on: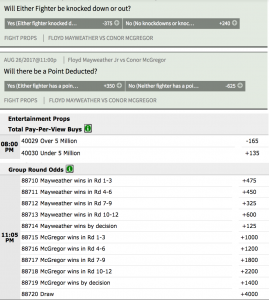 Will there be a point deducted?
You can cut the tension between these two with a knife. Both have a strong case for greatest of all-time in their respective sport, so naturally, there's going to be a clash of egos. That bitterness could very well spill over in the actual fight.
We're not worried about Mayweather losing his cool — he's as calm as they come in the squared circle. But we can't say the same about McGregor.
The thing about the Irishman is he's such a wildcard. He's never boxed before, so what if his natural instincts flare and he throws a kick? What happens when Mayweather frustrates him with untouchable defense like he's done to boxers throughout his career? McGregor is a loose cannon waiting to go off.
Pick: Yes (+350)
Will either fighter be knocked down?
"I'm going to knock him out inside four rounds, mark my words," McGregor has famously quipped in the buildup to this fight.
He says it with such conviction that you really believe him, too. But that's nothing more than McGregor's promotion expertise at play. For all of his fighting skills, McGregor's mouth has made him the biggest box office draw in MMA history.
While McGregor does have knockout power — he's won all but three of his MMA fights via ref stoppage — he'll struggle to land those haymakers against the slippery Mayweather, whose defensive abilities are second to none.
As for Mayweather dropping McGregor, we don't see it happening either. He's played it safe his entire career and isn't about to go for a knockout blow at 40 years old, no matter how novice McGregor is. Mayweather will stick to the script and attempt to win on the judges' scorecard.
Pick: No (+240)
Over/under 5 million pay-per-view buys?
The all-time pay-per-view record is 4.6 million buys set by Mayweather and Manny Pacquiao two years ago. That fight had years worth of build up and many actually believed Pacquiao could defeat Mayweather.
Neither is the case in this battle. But even then, you can't help but feel McGregor's star power. He brings a different fan base — one inside the MMA world — and swagger to him. Does anyone remember the press conferences between Pacquiao and Mayweather? We sure don't. But the war of words we saw during McGregor and Mayweather's four-city world tour made headlines across the globe.
August 26th is about to be a day where the world will stand still and come together to watch this historic fight.
Pick: Over (-165)
Group round odds?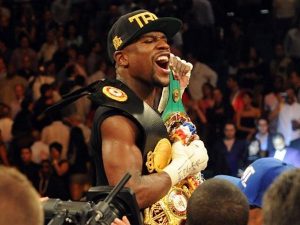 You got to give it to McGregor. He's really convinced the public that his size, youth, and unorthodox style give him an advantage over an undefeated boxer.
But really think about that. Mayweather has dominated his sport for two decades. His victories read like a whose-who of boxing greats — including Oscar De La Hoya, Shane Mosley, Canelo Alvarez, and more. You really think a guy with zero experience in that sport can outbox one of the greatest ever?
This will be an easy Mayweather triumph, and one by decision. Power has never been Mayweather's calling card and it's not about to be in his 50th fight.
Pick: Mayweather wins by decision (+125)