The betting options for the upcoming Conor McGregor-Floyd Mayweather superfight is like an all-you-can -eat buffet — it just doesn't end. Ever. With so many different lines, various prop bets, and a slew of bookies, this might be a betting overload for some. But that's why we're here. Here's your guide to navigating through all the noise and increasing your chances at a payout come August 26.
Which sports book to use?
Between Topbet, BetOnline, and Bovada — all three books have different lines placed on this fight. And we're not talking a small difference either, it's as high as an 115-point swing.  The answer here lies in which fighter you think will win.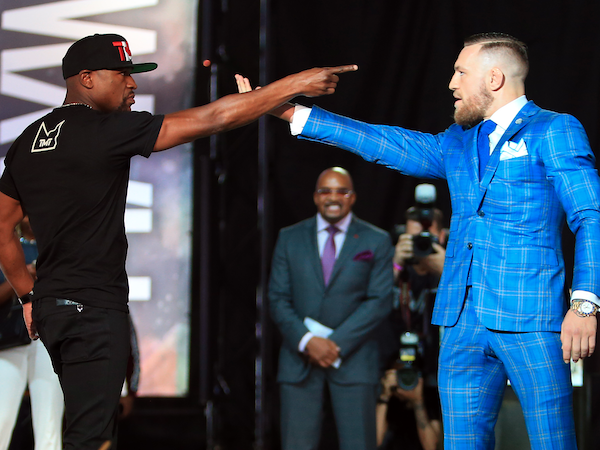 If you lean toward Mayweather, then Bovada is your go-to spot. He's a -550 favorite there, far better than his -665 chances on BetOnline. Steep odds on both books regardless, but Bovada offers more bang for your buck.
Now that flips if you're convinced McGregor can stun the world. He's +490 to win on BetOnline — a sizable improvement from +375 on Bovada.
It's going to very well take a miracle for McGregor to end Mayweather's unbeaten streak. But boxing is a sport in which the outcome can be determined in a split second. That alone should give you a reason to take that +490 payout for a McGregor victory. It's just too much value to pass up.
Best prop bets?
There's two prop bets we love. First, the exact method of victory deserves attention. There are only two ways this fight will end — Mayweather by decision or McGregor via knockout.
No matter how novice McGregor is in the ring, Mayweather won't go for the knockout. It's never been his calling card, little less at 40 years of age. Bovada offers you the best payout with +230 odds for a Mayweather decision.
In that same token, McGregor and his zero boxing experience isn't going to outpoint an all-time great. McGregor needs one opening to land his crushing blow and win. If that happens, BetOnline's +575 is your best bet.
The other prop bet is the amount of pay-per-view buys this spectacle will generate. BetOnline has the over/under at five million — -165 for the over and +135 for the under. Jump on that over.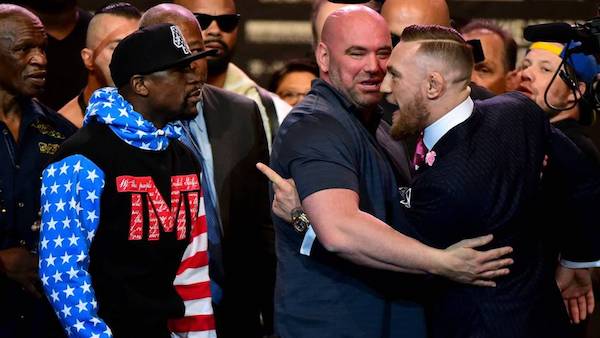 August 26 may very well end up as the biggest fight of our lifetime. In Mayweather, you're getting a fighter that's been in the public limelight a whopping 20 years and has sold the most pay-per-views in history by a longshot. In McGregor, you're getting the hottest combat fighter today with a huge international presence. That's a recipe for the biggest blockbuster PPV event of all time.
It helps that the build up to the bout has been heated and headline-grabbing. The four-city world tour was a complete circus, but for better or worse, that draws eyeballs. The war of words between two of the greatest trash talkers ever has the anticipation for August 26 at a fever pitch.
Straight bet or parlay?
Again, this is a two-sided answer. If you're of the belief that Mayweather wins, then a parlay is an absolute necessity. His odds are too high to earn a big pay day if you're simply betting him straight up. You'll need to combine two or three different bets to earn a big return. Parlay a Mayweather win, decision as the exact outcome, and over five million pay-per-view buys to really reap the rewards.
The opposite applies to McGregor. Every wager that results in a McGregor win at least triples your investment. Now, if you want to get greedy, then by all means parlay McGregor. If it hits, that parlay would be an all-time great heist in the betting world.
We're now under a month away from what may turn out to be one of the biggest sporting events of our lifetime as Floyd Mayweather and Conor McGregor collide.
Call the fight what you want — a circus, a money-grab, or even a competitive battle — but either way, it's a must-bet event. You can literally sift through prop bets endlessly, however, we'll save you the time and offer you the four best bets to wager on: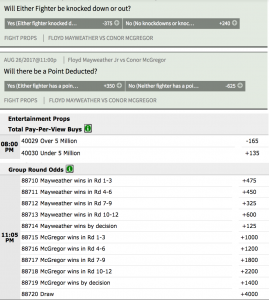 Will there be a point deducted?
You can cut the tension between these two with a knife. Both have a strong case for greatest of all-time in their respective sport, so naturally, there's going to be a clash of egos. That bitterness could very well spill over in the actual fight.
We're not worried about Mayweather losing his cool — he's as calm as they come in the squared circle. But we can't say the same about McGregor.
The thing about the Irishman is he's such a wildcard. He's never boxed before, so what if his natural instincts flare and he throws a kick? What happens when Mayweather frustrates him with untouchable defense like he's done to boxers throughout his career? McGregor is a loose cannon waiting to go off.
Pick: Yes (+350)
Will either fighter be knocked down?
"I'm going to knock him out inside four rounds, mark my words," McGregor has famously quipped in the buildup to this fight.
He says it with such conviction that you really believe him, too. But that's nothing more than McGregor's promotion expertise at play. For all of his fighting skills, McGregor's mouth has made him the biggest box office draw in MMA history.
While McGregor does have knockout power — he's won all but three of his MMA fights via ref stoppage — he'll struggle to land those haymakers against the slippery Mayweather, whose defensive abilities are second to none.
As for Mayweather dropping McGregor, we don't see it happening either. He's played it safe his entire career and isn't about to go for a knockout blow at 40 years old, no matter how novice McGregor is. Mayweather will stick to the script and attempt to win on the judges' scorecard.
Pick: No (+240)
Over/under 5 million pay-per-view buys?
The all-time pay-per-view record is 4.6 million buys set by Mayweather and Manny Pacquiao two years ago. That fight had years worth of build up and many actually believed Pacquiao could defeat Mayweather.
Neither is the case in this battle. But even then, you can't help but feel McGregor's star power. He brings a different fan base — one inside the MMA world — and swagger to him. Does anyone remember the press conferences between Pacquiao and Mayweather? We sure don't. But the war of words we saw during McGregor and Mayweather's four-city world tour made headlines across the globe.
August 26th is about to be a day where the world will stand still and come together to watch this historic fight.
Pick: Over (-165)
Group round odds?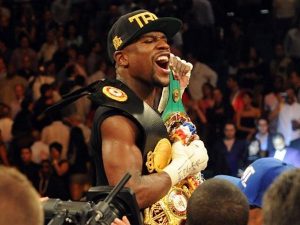 You got to give it to McGregor. He's really convinced the public that his size, youth, and unorthodox style give him an advantage over an undefeated boxer.
But really think about that. Mayweather has dominated his sport for two decades. His victories read like a whose-who of boxing greats — including Oscar De La Hoya, Shane Mosley, Canelo Alvarez, and more. You really think a guy with zero experience in that sport can outbox one of the greatest ever?
This will be an easy Mayweather triumph, and one by decision. Power has never been Mayweather's calling card and it's not about to be in his 50th fight.
Pick: Mayweather wins by decision (+125)