Mouthwatering NFL Props
At first glance, it might be overwhelming sifting through the NFL regular season prop bets. There's a ton, ranging from division winners to league leaders in a certain statistic. But hey, that's why we're here. We've picked out five of the best wagers Topbet is currently offering:
Most Receiving Yards
No player has caught more passes in their first three seasons than Beckham. Those targets won't be stopping in year four. Not even close.
The Giants had the fourth-worst running attack in 2016 and it won't be any better this season. Their running-back-by-committee — featuring subpar runners Paul Perkins, Orleans Darkwa, and rookie Wayne Gallman — isn't scaring anyone.
That means a heavy dose of OBJ is on the horizon. New York also added grizzled veteran Brandon Marshall over the offseason. That should take some attention off Beckham and open the door for copious amounts of receiving yards.
Pick: Odell Beckham Jr. (+650)
NFC South Division Winner
Many are high on the Buccaneers to take the next step this year, except sportsbooks. Topbet and most other books have Tampa Bay as a distant third to Atlanta and Carolina as the NFC South champions. We're not as convinced.
Now in year three, it's boom or bust for Jameis Winston. That's enough pressure to wilt most quarterbacks, but not Winston. He's had the cameras on him since he was 19 years old (including this offseason during HBO's Hard Knocks) and he thrives in pressure-cooker situations.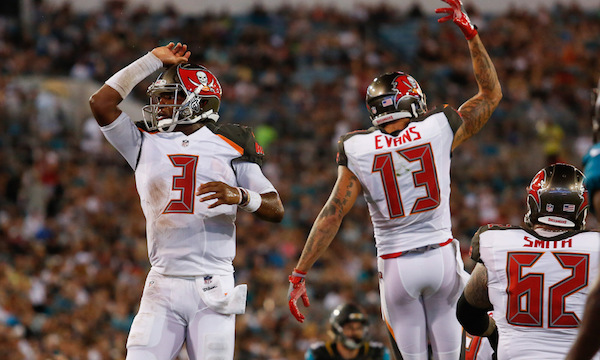 Taking some heat off Winston will be a loaded arsenal of weapons. Speedster DeSean Jackson joins freak-of-nature Mike Evans for a killer one-two punch. That trio will propel Tampa Bay to its first division title in a decade.
Pick: Tampa Bay (+275)
Last Team to Win a Game
Unlike the NBA, "tanking" was unheard of in the NFL. Not anymore. Franchises such as the Browns, Bills, and Jets are stockpiling picks at the expense of good players — a clear sign they're already thinking about 2018.
Out of the three, New York appears to be in the worst position thanks to their quarterback situation, where journeyman Josh McCown will get the nod. Buffalo's Tyrod Taylor is a clear upgrade and Cleveland is fresh off dumping McCown themselves.
When McCown inevitably gets hurt — like he always does — the Jets will have to turn to Bryce Petty. Yikes. It's going to be a rough go in New York.
Pick: Jets (+625)
NFL Offensive Rookie of the Year
Excuse us while we gush over the ninth-overall pick Christian McCaffrey. With breakneck speed and deceptive power, this guy has superstar written all over him.
McCaffrey will be a focal point of Carolina's offense this season. Whether it's taking direct snaps out of the Wildcat formation, catching Cam Newton dump passes, or juking defenders — McCaffrey can do it all.
The advantage McCaffrey will have in this prop bet over other talented rookies — Leonard Fournette, Joe Mixon, or Dalvin Cook — is Newton. The other three will be marred by iffy quarterback play, whereas McCaffrey will thrive with fellow playmaker Newton.
Pick: Christian McCaffrey (+500)
Super Bowl Winner
The NFL is a quarterback-driven league, meaning the Super Bowl favorites have to be New England and Green Bay considering Tom Brady and Aaron Rodgers are the runaway best throwers in the league.
This prop bet is a toss-up between the two, but we're favoring the Packers just slightly. Besides them being a lot more valuable of a bet (Patriots are +325 to repeat as champions), Rodgers will be even better this season as scary as that sounds. Green Bay's addition of tight end Martellus Bennett will add another layer to the Rodgers-led attack. Watch out!
Pick: Green Bay (+1000)
Fancy splashing out $100 on the "big fight?"
Expect your wallet to take a hit when Conor McGregor and Floyd Mayweather — after years of anticipation and back-and-forth bantering — finally meet in the squared circle. The pay-per-view will run $100 a pop and movie theaters will broadcast the bout, charging about $40.
As pricey as that is, this is one of the few events that transcends sports and culture. In the same likes as the Super Bowl or World Cup, all eyes will be watching this one closely — and that includes non-sports fans.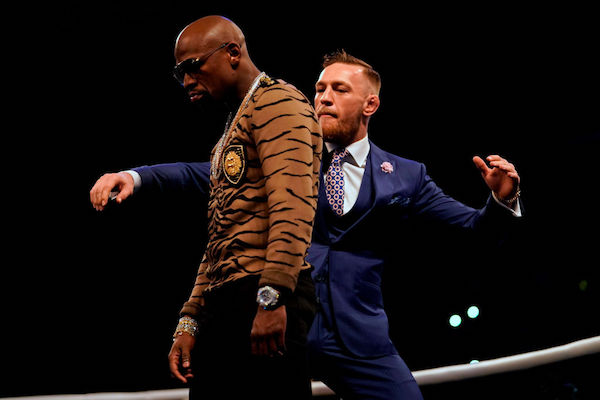 Mayweather has been in the public limelight for more than 20 years — longer than any active athlete — and has broken his own PPV records multiple times over. McGregor is a budding superstar with legions of fans dotted across the globe. That juxtaposition translates into a must-see spectacle.
Plus, this crossover battle is almost unheard of. It's been over four decades since boxing legend Muhamed Ali squared off with Japanese professional wrestler Antonio Inoki in a shoot fight. You must have a semblance of curiosity to see what transpires when the best pound-for-pound UFC fighter meets the greatest boxer of all time, right?
Use this clash as an excuse to throw a giant bash with friends. Or watch so you aren't left out of water cooler talk at work. Either way, this is a where-were-you-when moment you simply can't miss.
To make up for the dent in your wallet from buying the fight, wagering on the bout is a no-brainer. But not all bets are created equal.
There's almost zero incnetive in betting Mayweather straight up to win, unless you have a copious amount of cash readily available. His odds of winning are simply too high. For instance, he's -610 on BetOnline. A wager in his favor here is a high-risk, low-reward proposition, which should be avoided at all costs.
The opposite applies for McGregor. Now, we're not saying he's going to win, which would qualify as the greatest upset in sports history. However, at +460 on BetOnline, it's very tempting.
McGregor has spent his whole life proving naysayers dead wrong. Here's a guy that is four years removed from collecting a welfare check. Few gave him a chance against Jose Aldo, arguably the best UFC featherweight ever, and McGregor beat him in 13 seconds. He was written off in a rematch against the bigger Nate Diaz, but McGregor avenged that loss in a gutsy bloodbath.
Pulling off a victory over the undefeated Mayweather, with no boxing experience, would be his biggest shocker yet. But in a sport where anything can happen, throwing a few bucks his direction could result in a huge payoff — especially if you predict what round McGregor would win. He's already guaranteed he'll stop Mayweather within the first four rounds. Odds for that happening range between +3300 to +2800 on BetOnline and it wouldn't be the first time McGregor wills something into existence.
Admittedly, those are all big ifs. That's why we suggest wagering a small portion on it. Most of your money should go toward the Mayweather wins via decision prop bet, which is going for +175 on BetOnline.
Mayweather, being the great promoter he is, is selling that he's going for the knockout against McGregor. Trust us, that's not going to happen.
McGregor has an iron jaw. He's never lost via stoppage and a 40-year-old Mayweather certainly isn't going to be the first. Mayweather will stick to the same script that's gotten him to 49-0 — stay on the defensive and jab his way to victory on the scorecards — and subsequently, earn back what you paid for just to watch this must-watch event.
Expect an all-new pay-per-view record for the big bout
The common denominator in the largest-selling pay per views of all time is Floyd Mayweather. The man they called "Money" has broken the two million buys mark on three separate occasions — against Oscar De La Hoya, Canelo Alvarez, and Manny Pacquiao. The latter topped out at an eye-popping 4.6 million buys, which many believed was the glass ceiling for PPV sales.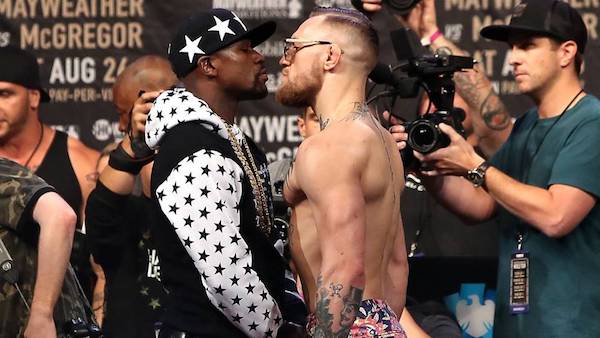 However, that ceiling might be shattered come August 26 as Mayweather, the biggest fighting draw of the past decade, meets Conor McGregor, the UFC cash cow.
Oddmakers appear to be convinced the previous mark will go down. TopBet has it at a staggering -600 to surpass 4.6 million. Heck, on Bovada and BetOnline, the over/under is at a whopping five million. Bovada's over sits at -230, while BetOnline is more modest with -165.
You can't downplay both fighers' star power. These two are two of the greatest showmen ever. But in spite of that, breaking five million is no shoe-in.
The PPV will run $100 a pop, unless you're stuck in a time warp  and opt for the "standard definition" version at $90. Not a cheap ticket by any means. The unprecedented spectacle will also be broadcasted on movie theaters around the country at a $40 buy-in, which could cut into the buy rate.
Even more worrisome, thousands of tickets remain available at the T-Mobile Arena for the actual fight. By comparison, Mayweather-Pacquiao sold out almost instantaneously and Canelo-Gennady Golovkin — which takes place just three weeks afterward — is also a sellout. Could this be a sign of things to come? Maybe, but we're inclined to say no.
Naysayers believe true fighting purists won't buy in because McGregor has little to no chance of defeating Mayweather, unlike Pacquiao-Mayweather, which most believed was a true toss up. However, McGregor has turned many doubters into believers — a true testament to his promoting skills.
Maybe it's McGregor's youth and size advantage. Or the conviction in his voice when he says, "I'm going to knock him out in under four rounds. Mark my words." But all that is making McGregor roughly a +500 bet to pull off the upset. Those are better odds for all but three of Mayweather's last ten opponents.
Already, the buildup to this matchup blows Mayweather-Pacquiao out of the water. The tension was lacking in "The Fight of the Century" as they billed the latter bout. Not this one. Mayweather and McGregor — two proven egomaniacs — hate each other, and that was reflected in the four-city world tour they did where insults, cussing, and outlandish behavior was the norm.
And unlike Mayweather-Pacquiao which drew from the same boxing audience, McGregor brings an entire new fan base with him. If you watched the press conferences, you know McGregor was the overwhelming fan favorite — a clear-cut sign that MMA diehards are paying close attention to this fight.
That's why we believe ticket sales have sputtered, too. MMA fans aren't used to forking over top dollar for tickets, unlike the old-timers that follow boxing more closely. However, a $100 PPV price point is certainly within limits for MMA purists.
Furthermore, McGregor brings that international flavor with him. He's a megastar in his native Europe, as well as Australia, Brazil, and similar fight-crazy countries. Those markets were mostly blind spots during Mayweather-Pacquiao.
August 26 is going to be a can't miss cultural event, rivaled only by the Super Bowl and World Cup. The audience will go beyond the usual fight and sports fans, which means you can expect a new all-time PPV record. Matter of fact, over five million buys is more than reasonable.
Look for the Celtics to keep Game 5 close
Below odds brought to you by BetOnline.
Over/under 214.5 points: Cleveland Cavaliers (-9) at Boston Celtics
After erasing a 21-point deficit to steal Game 3, Boston appeared on their way to do the same in Game 4. Cleveland's funk spilled over onto Tuesday as they trailed by as many as 16 points on their home floor.
Worse, it seemed like LeBron James wouldn't be able to pull them out of this hole. For the first time in his career — one that spans 14 seasons and more than 1,200 games — he committed a staggering four fouls before halftime. It extended a slump that began with an 11-point effort in Game 3.
Fear not, though, Kyrie Irving rose to the occasion and turned in one of the best performances of his young career. He blew up for a career playoff high 42 points, with 21 of them coming in the third frame. The points came in a flurry as Irving drove to the basket, almost at will, finishing left handed, with his right, and off the glass each time.
He tweaked his ankle during the game-changing third quarter, almost becoming another superstar on the injury report this postseason. Instead, Irving gutted through the pain and ripped off an incredible run. He shot 9-of-10 from the field and scored the Cavs' final 14 points in the quarter.
The outburst jolted Cleveland back from the dead. It also gave James enough time to recover from his foul troubles, before he re-found his groove. James ended the night with 34 points, six assists, and five rebounds. He's now scored at least 30 points in each postseason game this year but two.
For a Cleveland team that's cruised through the postseason, this may have been the adversity they desperately needed to prepare for a NBA Finals rematch with Golden State. One more win on Thursday will have them knocking on the door.
With that said, this Boston team are far from pushovers. Following two lopsided losses at home, and ounce Isaiah Thomas was ruled out for the series, this team was left for dead by everyone. Instead of mailing it in, the Celtics fought the defending champions tooth and nail.
After halftime of Game 3 and until intermission of Game 4, Boston outscored the Cavs by an astounding 118-89 — that's impressive any way you slice it. It's almost like they're playing better without Thomas to carry them. That's insane, I know, but hear me out.
When else have you seen Marcus Smart shoot lights out — as in 7-of-10 from three-point land — like he did in Game 3? What about Avery Bradley's dagger three-pointer to win that same game? Or Jae Crowder stuffing the box score with points and rebounds such as the past two games? All three stepped up in time of need.
Not to say they're better off without Thomas. But his injury, along with two embarrassing losses, has lit a blazing fire under the Celtics. That's why we like them as nine-point home underdogs in Game 5. Yes, this series will end on Thursday, but Boston will go down swinging.
Pick: Boston (+9)
Total: Over