Power Pitching Dominates Tonight's Schedule: MLB Free Picks
We closed out a very successful July (485.62 unit profit) with a win as the Rays hammered the Mariners 8-1 on Sunday. A virtual buffet of power pitching is on display as the MLB playoff stretch run begins today. We feel like a kid in a candy store as several of tonight's match-ups feature the best pitchers in baseball. Check out what we mean with today's MLB Free Picks!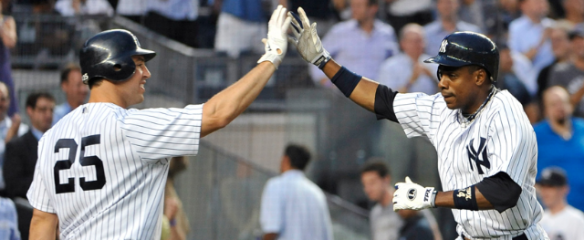 Power Pitching Dominates Tonight's Schedule – MLB Free Picks: Talk about star studded pitching power! Tonight's MLB schedule is packed with it. The schedule is a little short on games at eleven but six of them feature starters who have at least eleven wins.
We are torn between three games tonight as we break down the Major League Baseball betting action for Monday, August 1, 2011 and offer up today's MLB Free Picks.
Tally it all up though and we have teams three with 195 wins (one in first and two in second), facing three teams with 154 wins (two in third and one in last).
MLB Game Day Previews – Baseball Betting Lines
The following three games caught our eye today and we like each of them. Those who are parlay betting inclined would do well to back the Money Line when tying these three contests together.
The pitchers for the teams we like tonight have a combined 39-14 record while their counterparts own a 17-22 won/loss record.
Tonight's MLB betting lines are featured in the sportsbook at the JustBet online sports wagering website.
New York Yankees @ Chicago White Sox

LHP CC Sabathia (15-5 2.56 ERA) heads to the hill for the Yankees who have won three straight games and seven of their last ten contests. Chicago will counter with RHP Jake Peavy (4-4 5.27 ERA) as the White Sox try to end a two game losing steak.
While the game is in Chicago, that's all the South Siders have going for them tonight. The New York bats are white hot as they just took three of four from the Orioles by a combined 31-12 final score.
Chicago has scored three runs or less in their last four contests and they won't get many over against CC tonight!
Side with Sabathia and the Yankees here!
Atlanta Braves @ Washington Nationals

RHP Jari Jurrjens (12-3 2.38 ERA gets the call for the Braves tonight and he is the ace of the Atlanta pitching staff. He will be opposed by Nationals RPH Livan Hernandez (5-10 4.19 ERA) who has struggled big time lately.
Though he is just 3-2 with a 3.88 ERA in ten starts against Washington, Jurrjens will be the dominating pitcher in this contest. Hernandez has been in a huge funk as he owns a 6.86 ERA in his last four starts.
Back the Braves in this one!
Philadelphia Phillies @ Colorado Rockies
Philadelphia owns the best record in baseball as they head to Colorado for a three game set against the Rockies. LHP Cole Hamels (12-6 2.61 ERA) toes the rubber for the Phillies tonight, while RHP Jhoulys Chacin (8-8 3.50 ERA) gets the call for the Rockies.
Hamels pitched a complete game as he allowed one run on fives hits for a 2-1 win over Colorado back on May 16, 2011. Chacin has given up five runs in two of his last three starts.
The rare air is a concern in Colorado but the addition of Hunter Pence to the Philadelphia lineup has been a big balancing boost for the Phillies.
Fly with the Phillies over Colorado tonight!