Oh Canada! Canadian Football League Betting Action Is Back
Dating back to Super Bowl XLVI, it's been 145 days since pro sports handicappers were able to wager on a meaningful North American football game. The pigskin betting dry spell will be rehydrated in style this weekend. That's because the 2012 Canadian Football League regular season schedule is slated to be launched on Friday, June 29, 2012, from Canada's Steel City!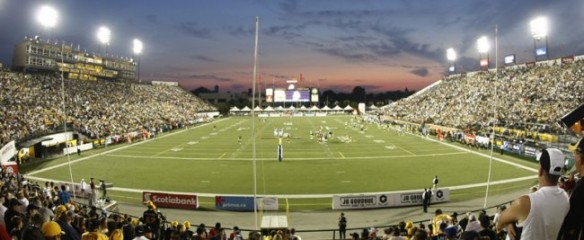 Friday Night Doubleheader Opens 2012 CFL Schedule
Doubleheader action gets the 2012 CFL regular season off in style as the Hamilton Tiger-Cats host the Saskatchewan Roughriders at 7:00 PM ET on Friday, June 29, from Ivor Wynne Stadium in Hamilton, Ontario. It's a perfect way to kickoff the Canada Day Weekend!
Pro football is back baby – let's get the party started! Newly minted starting QB Henry Burris leads the new look Tiger-Cats who also happen to be the second favorite to win the 100th Grey Cup Championship in November. The Green Riders will look to put a miserable 2011 campaign behind them as they finished 5-13 last season, a year after they played in the Grey Cup.
2011 Grey Cup Championship Grudge Match: BC Lions Battle Blue Bombers
For Canadian Football League purists, the wait for their brand of pigskin betting has been even longer. It's been 184 days since the British Columbia Lions defeated the Winnipeg Blue Bombers 34-23 in the 99th Grey Cup Championship back on Sunday, November 27, 2011.
With the CFL celebrating the Grey Cup's Diamond Anniversary, the Lions would love to go back-to-back and be a part of the 100th year celebrations in Toronto. The Bombers will bring their stout defense to the table as they look to improve on their 10-8 record from a year ago.
Top online bookmakers, on the ASB sportbooks rating list, are all over the 2012 CFL season. From Grey Cup odds, to Conference Championship and weekly wagering lines, handicappers are covered during all 18 regular season weeks and throughout the playoffs. Register a personal betting account, bank a bonus, and get in on the CFL wagering experience today!