NHL Stanley Cup Playoffs: Clear Betting Trends
After a thrilling first round of National Hockey League playoff action, a few betting trends have emerged and been identified. The teams are playing it close to vest as one goal games and overtime finishes, along with low scoring contests and the visiting teams having a decided advantage, have all been wagering trends through the first 48 games of the chase for Stanley.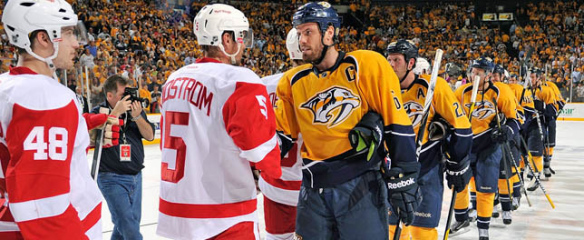 NHL Wagering Statistics: Overtime Games Trending
Few scenarios in sports are more thrilling than the sudden-death nature of NHL playoff overtime games. During the first round 16 of the 48 games needed extra time to decide them. Of those 16 OT battles the visiting team won 12 of the games.
Each series, except for the Nashville Predators vs. Detroit Red Wings, had an OT contest. The Phoenix Coyotes and Chicago Blackhawks saw the first five of their six games head to an extra frame. Visitors have also been a hot betting trend as they own a 30-18 record thus far – wow!
NHL Playoff Betting Trends: One Goal Games – Low Scoring Contests
If you take away the Pittsburgh Penguins vs. Philadelphia Flyers series, bettors cashed in big time when taking pucks and wagering on the UNDER during the first round. In their six game series the Flyers and Pens accounted for 56 of the 242 first round goals. That leaves a total of 186 goals (4.4 per game) in the other seven series (42 games) combined.
One-goal games have decided 32 of the first 48 games, with 19 of those games coming in at under five goals. Further to that, 33 contests had five or less total goals. That's an UNDER wagering, along with taking pucks, NHL playoff betting paradise!
With the second round of the NHL playoffs underway, the Phoenix Coyotes and Nashville Predators are continuing the first round trends. Their first game went into overtime with the Desert Dogs winning 4-3. With the big guns, such as Vancouver, Boston, Detroit, and Pittsburgh already eliminated, expect the close games and low scoring betting trends to continue throughout the 2011-12 NHL Playoffs – bet on it at our top rated sportsbooks!