NHL Stanley Cup – NBA Western Conference Final Doubleheader
Get your dual monitors set up as Monday night brings us playoff doubleheader betting action. First up, we get Game 3 of Stanley Cup Final as the New Jersey Devils visit the Los Angeles Kings at the Staple Center for a 6:00 PM ET scheduled puck drop. Then at 7:00 PM ET it's Game 5 of the NBA Western Conference Finals (2-2 series) as the Oklahoma City Thunder battle the San Antonio Spurs from the AT&T Center in San Antonio, Texas. Let's get it on!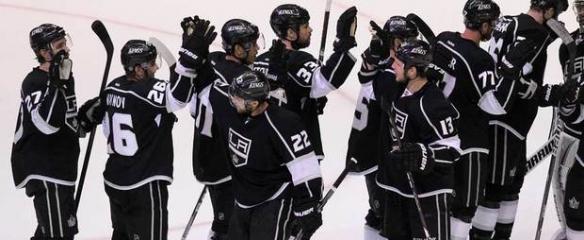 LA Kings Look To Make Quick Work Of The NJ Devils
On a magical run, the Los Angeles Kings are looking to crown the New Jersey Devils with a third straight victory in the 2011-12 Stanley Cup Final. After a pair of 2-1 overtime wins on the East coast, the Kings return home to what is sure to be a delirious crowd at the Staples Center. We have backed the Kings since the playoffs began – and we like them to win again tonight.
To fully appreciate what the Kings have done during the 2012 NHL Playoffs, one needs to look no further than their 14-2 record. In those 16 contests, the Kings have outscored their opponents by a 45-24 combined total goals. If the Kings sweep the series, they will tie the Edmonton Oilers for the least loses in a modern day Stanley Cup Championship run.
Spurs Limp Back To San Antonio – Thunder Rolling After Two Straight Wins
Looking like world beaters through the first two games of the 2011-12 NBA West Final, San Antonio got rolled by the Thunder during games three and four in Oklahoma City. What had the makings of a run away series win for the Boys from Texas has now turned into a best of three match-up as the Thunder have now won two straight contests by a 211-185 combined count.
After getting next to nothing from anyone but Kevin Durant and Russell Westbrook throughout the playoffs, Serge Ibaka, Kendrick Perkins and Nick Collison combined to shoot 22 of 25 as they poured in 49 points during Game 4. We can't see those three repeating their heroics again tonight. We like the Spurs to take a 3-2 series lead in this pivotal Game 5 in Texas tonight.