NHL Playoff Free Pick – Red Wings vs Coyotes Game Day Odds
Tonight's NHL Playoff Free Pick features the Detroit Red Wings vs the Phoenix Coyotes with game day odds courtesy of Sports Interaction. Puck drop is now just minutes away so get in the game!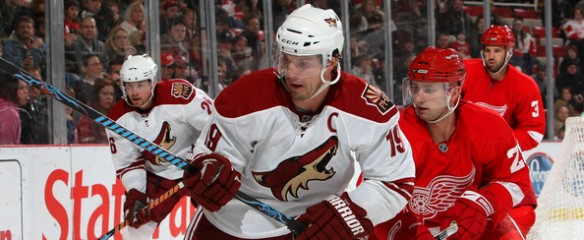 NHL Playoff Free Pick – Red Wings vs Coyotes Game Day Odds: Game three of this Western Conference NHL playoff battle shifts to the dessert tonight, as Phoenix will host Detroit.
Live NHL betting action gets underway with puck drop at 10:30 PM on Monday, April 18, 2011 from the Jobing.com Arena in Glendale AZ.
Phoenix vs. Detroit – Game Preview
The Wings dominated the Coyotes during four of the first six periods at the Joe Louis Arena in Detroit. Overall they are winning by an 8-5 scoring edge and have a 2-0 series led.
Human highlight reel, Pavel Datsyuk, has five points in the first two games. That's without Henrik Zetterberg in the lineup, and Hank could be back as early as tonight.
For their part, the Coyotes played gritty hockey in the first two contests. Lead by Shane Doan (four points) , six different 'Yotes have registered at least a point.
That being said, if they want to turn the tide, they are going to need goaltender Ilya Bryzgalov to step up and steal a game or two.
NHL Betting Line – Detroit @ Phoenix – Free Pick
Tonight's betting line is furnished by the SportsInteraction.com online sportsbook.

The Wings have a recent record of 19-4 when they have won the first two games of a playoff series. With a Round Two West coast series up next, you know they don't want to make two trips to Phoenix. The Red Wings will get at least one win in the dessert as this series won't go more than five games.
The line, at the Wings plus a puck and half, seems like a gift and we are always a little weary of gifts from the books. We'll bite though!
Take the Wings over the Coyotes at +1.5 (-280) on the puck line!