NHL Playoff Betting Trends – Overtime Dominates Three Contests
We have always been of the opinion that no league kicks it into a higher gear, during their playoff season, than the National Hockey League. That was evident again last night as overtime was the dominating playoff betting trend in three of four contests during the second night of the NHL 2011-12 Playoffs. Hang on puck betting fans – it's only going to get better!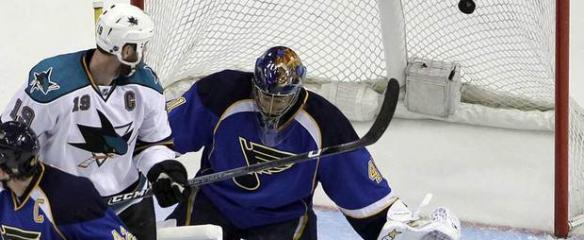 St. Louis vs. San Jose: Sharks Upset The Blues
They're singing the blues in St. Louis this morning after the #7 seed San Jose Sharks upset the number two seeded Blues in one of three games that needed extra time during the second night of NHL Playoff action. Martin Havlat potted his second goal of the game, 3:34 into fifth period, to lift the Sharks to 3-2 win in the opening game of this best of seven first round series.
Boston vs. Washington: Bruins Grab OT Win Over The Capitals
Little known goaltender Braden Holtby (29 saves) played the game of his life for Washington but it wasn't enough. Bruins netminder Tim Thomas (17 saves) bagged a shutout as Boston opened their Stanley Cup defense with a 1-0 OT win against the Capitals. Bruins Center Chris Kelly blasted a shot from just over the blueline to beat Holtby glove-side 1:18 into overtime.
Phoenix vs. Chicago: Coyotes Hold Serve Against The Blackhawks
Phoenix scored twice in the second period, then gave up a goal with 15 seconds left in the contest, to send the opening game of this first round series into OT against Chicago. After both teams had plenty of scoring chances in the first extra frame, Coyotes Center Hartin Hanzal redirected a shot from the point, at the 9:29 mark of the overtime period, to win it for the 'Yotes.
In the seventh of eight series now underway, the New York Rangers jumped out to a 4-0 lead early in the third period and cruised to a 4-2 win over the Ottawa Senators. The 'Sens actually outshot the Rangers 24-20 through two periods but trailed 3-0 to open the third frame.