NHL Betting Lines – Kings vs Ducks – Free Pick
Today's NHL betting lines and Kings vs Ducks free pick focuses on a Western Conference clash with playoff positioning on the line. For the second time this week, we are featuring the Los Angeles Kings – this time against Anaheim Ducks in an all Pacific Division match-up.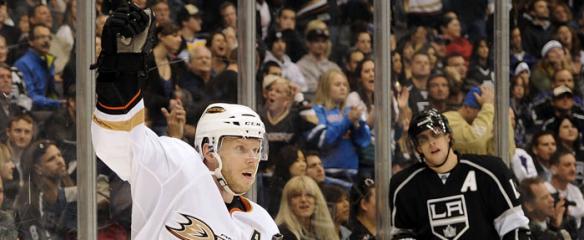 NHL Betting Lines – Kings vs Ducks – Free Pick: The Kings and the Ducks close out their season schedule, and the NHL 2010-11 regular season, with a pair of match-ups against each other in a series that is dubbed the "Freeway Face-Off".
Puck drop from the Honda Center in Anaheim, California, is scheduled for Friday, April 8, 2011 at 10:00 PM EDT.
NHL Game Day Preview – Ducks vs Kings
The Kings (46-28-6) and the Ducks (45-30-5) could both finish as high as fourth in the very tough NHL Western Conference. Each team has won two games in the season series so far, and they have both won one game on the other teams home pond.
The last two games have been decided by one goal, with the Ducks winning the latest contest, 2-1 in OT, back on March 19, 2011. Despite stumbling at times this season, both teams have been good as the playoff chase gets down to the wire. In their last ten games, Los Angeles is 6-3-1 while Anaheim is 7-3-0 over the same stretch.
Free Pick – NHL Betting Lines -Kings @ Ducks
Spread Odds: Los Angeles +1.5 (-265) Anaheim -1.5 (+215)
Money Line: Ducks -135 ~ Kings +115
Game Total: 5.5 Pucks  UNDER -135 ~ OVER +115
NHL Betting Free Pick: There is a lot on the line as the Ducks and Kings could trade places in the standings by the end of the weekend. Los Angeles is clinging to fourth overall in the West and will probably need to win back to back to secure a home playoff series. The betting odds, courtesy of Sports Interaction, favor the Ducks in this one and we agree!
Take the Ducks at -135 on the money line!